NEWS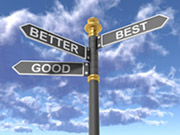 New results from three clinical trials highlight the evolving treatment options for women who have HER2-positive breast cancer. These cancers, which produce too much HER2 receptor protein, are a particularly aggressive form of the disease and account for approximately 20 percent of all breast cancer diagnoses. 
In one trial, researchers showed that the investigational drug T-DM1 improved overall survival in women with advanced HER2-positive disease who had been previously treated with the HER2-targeted drug trastuzumab (Herceptin) and taxane chemotherapy. These updated findings from the EMILIA trial appeared October 1 in the New England Journal of Medicine. Read more > >
IN DEPTH
Levels of the protein fibulin-3 may aid diagnosis, prognosis

Will relaxation and stretching improve quality of life for these women?

New center focuses on every aspect of these cancers, from basic research to clinical care
UPDATES
Director's Consumer Liaison Group to Meet Next Week
Meet NCI Experts at the American Public Health Association Annual Meeting
NCI Reaches Facebook Milestone
Selected articles from past issues of the NCI Cancer Bulletin are available in Spanish.
The NCI Cancer Bulletin is produced by the National Cancer Institute (NCI), which was established in 1937. Through basic, clinical, and population-based biomedical research and training, NCI conducts and supports research that will lead to a future in which we can identify the environmental and genetic causes of cancer, prevent cancer before it starts, identify cancers that do develop at the earliest stage, eliminate cancers through innovative treatment interventions, and biologically control those cancers that we cannot eliminate so they become manageable, chronic diseases.
For more information about cancer, call 1-800-4-CANCER or visit http://www.cancer.gov.
NCI Cancer Bulletin staff can be reached at ncicancerbulletin@mail.nih.gov.