For Public Health Professionals
Adolescents (ages 10 to 19) and young adults (ages 20 to 24) make up 21 percent of the population of the United States.1 The leading causes of illness and death among adolescents and young adults are largely preventable.2
We all know advocating for adolescent immunizations takes time. That's why this site was created—to provide resources and materials for your activities promoting adolescent vaccines.
Print and use these materials
Adolescent immunization campaign communication resources available at no cost: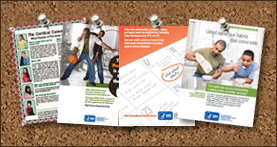 Find the answers to your questions
Increasing vaccination rates of adolescents can help us achieve the target goal for 2 of the Healthy People 2020 objectives, which are
Decrease school absenteeism among adolescents due to illness or injury; and
Increase the proportion of adolescents who have had a wellness checkup in the past 12 months.
Images and logos on this website which are trademarked/copyrighted or used with permission of the trademark/copyright or logo holder are not in the public domain. These images and logos have been licensed for or used with permission in the materials provided on this website. The materials in the form presented on this website may be used without seeking further permission. Any other use of trademarked/copyrighted images or logos requires permission from the trademark/copyright holder...more

This graphic notice means that you are leaving an HHS Web site. For more information, please see the Exit Notification and Disclaimer policy.
Contact Us:
Centers for Disease Control and Prevention
1600 Clifton Rd
Atlanta, GA 30333
800-CDC-INFO
(800-232-4636)
TTY: (888) 232-6348
New Hours of Operation
8am-8pm ET/Monday-Friday
Closed Holidays