Uterine Cancer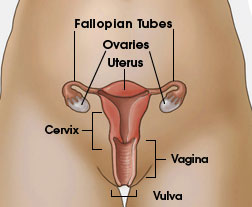 Cancer is a disease in which cells in the body grow out of control. Cancer is always named for the part of the body where it starts, even if it spreads to other body parts later. When cancer starts in the uterus, it is called uterine cancer. The uterus is the pear-shaped organ in a woman's pelvis (the area below your stomach and in between your hip bones). The uterus, also called the womb, is where the baby grows when a woman is pregnant. The most common type of uterine cancer is also called endometrial cancer because it forms in the lining of your uterus, called the endometrium.
When uterine cancer is found early, treatment is most effective.
Learn more by downloading the Inside Knowledge campaign's uterine cancer fact sheet. [PDF-622KB]
Who Gets Uterine Cancer?
All women are at risk for uterine cancer, but the risk increases with age. Most uterine cancers are found in women who are going through or who have gone through menopause—the time of life when your menstrual periods stop.
Uterine cancer is the fourth most common cancer in women in the United States and the most commonly diagnosed gynecologic cancer.†
In 2008 (the most recent year numbers are available)—
43,134 women in the United States were diagnosed with uterine cancer.*†
7,675 women in the United States died from uterine cancer.*†
*Incidence and death counts cover approximately 100% of the U.S. population.
†Source: U.S. Cancer Statistics Working Group. United States Cancer Statistics: 1999–2008 Incidence and Mortality Web-based Report. Atlanta (GA): Department of Health and Human Services, Centers for Disease Control and Prevention, and National Cancer Institute; 2012. Available at: http://www.cdc.gov/uscs. (full site)
Contact Us:
Centers for Disease Control and Prevention
Division of Cancer Prevention and Control
4770 Buford Hwy NE
MS K-64
Atlanta, GA 30341
800-CDC-INFO
(800-232-4636)
TTY: (888) 232-6348