CDC-INFO's operating hours are 8:00 am to 8:00 pm Monday through Friday, Eastern time (ET). CDC-INFO is closed overnight (8:00 pm to 8:00 am, ET), Saturdays and Sundays, and on major federal holidays (New Year's Day, Martin Luther King Day, Memorial Day, Independence Day, Labor Day, Veteran's Day, Thanksgiving Day, Christmas Day).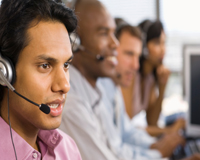 CDC-INFO is the Centers for Disease Control and Prevention's National Contact Center. It is your single source for accurate, timely, consistent, and science-based information on a wide variety of disease prevention and health promotion topics. Representatives are available to answer your questions in English and Spanish.
CDC-INFO Highlights
Communication Channels: Phone, e-mail, postal mail
English and Spanish
Information on more than 750 topics
Surge capacity during events such as pandemic flu, disease outbreaks, natural disasters, and other emergencies
Supporting CDC′s Mission
CDC-INFO's mission is to provide tools that people and communities need to protect their health—by promoting health; preventing disease, injury and disability; and preparing for new health threats.
CDC-INFO supports CDC's mission by providing accurate, timely, consistent, and science-based information for the public, health care providers, and public health partners.
Who is CDC-INFO designed for?
CDC-INFO provides health and safety information to:
CDC-INFO Milestones
Responded to more than 2.9 million telephone inquiries and 580,000 pieces of correspondence (received first call and e-mail in February 2005).
Responded to an average of 1,000 phone calls, 250 e-mails, and 6 pieces of postal mail each day.
Provided information on more than 750 health and safety topics.
Combined more than 75 CDC programs (40 hotlines) into a single integrated service.
Handled up to 5,500 calls—200 inquiries per day—on hot topics such as Hurricane Katrina in September 2005.
Answered more than 3,000 inquiries each about earthquakes in Japan and Haiti.
Responded to more than 13,000 calls on avian flu in 2005 and 2006.
Handled 10,000 inquiries during the 2009 salmonella event.
Answered more than 216,000 inquiries about the H1N1 virus.
Responded to 109,000 inquiries about seasonal influenza.
Have handled hundreds of inquiries on various CDC health promotions about autism, tobacco use, mad cow disease, and others.
Won first place in the Government Services Administration annual Citizen Service Award (2009).
Won the Fed 100 Award (February 2010).
Contact Us:
Centers for Disease Control and Prevention
1600 Clifton Rd
Atlanta, GA 30333
800-CDC-INFO
(800-232-4636)
TTY: (888) 232-6348