YouTube for Media
A YouTube guide for media: Tips and tricks for finding the best videos on YouTube
Finding great content
Basic tips for searching and browsing YouTube
Where can I discover the best videos on YouTube?
There are several places you can find great videos on YouTube:
What's the best way to find videos on a specific topic?
Enter your search term(s) into the search box at the top of any page on YouTube. On the results page, click on the "Search Options" link to further filter your search results:

To filter by timing, sort by "Upload Date" to see the most recently uploaded videos at the top of the list. The upload date for each video on YouTube signifies the time of day the video was added to the site and made live. All upload dates are displayed in Pacific Standard or Daylight Time U.S. (PST or PDT), regardless of where in the world the video was uploaded.
Re-broadcasting videos
Some guidelines for incorporating YouTube content into your show
---
Credit the content owner. Though YouTube has a license to distribute the video, it's the YouTube user who owns the content. We encourage you to reach out to users directly when you find video you'd like to use, and to provide attribution by displaying the username or the real name of the individual, if you've obtained it.
Credit YouTube in your re-broadcast of the video. When you show a YouTube video on television, please include on-screen and verbal attribution. We've made the official YouTube logo available for you to download.
Contacting a YouTube user
Clicking on a YouTube username will take you to the user's profile, where you can see what personal information he or she has shared (name, web site, location, etc.). From here, you can use YouTube's on-site messaging system to contact the user. First, you must be logged into your own YouTube account. Then, click on the username of the individual you'd like to reach out to.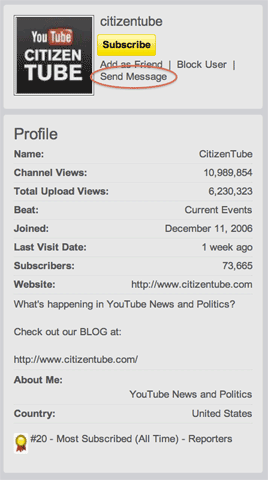 Once you're on the user's channel, you'll see a link above their channel information box that says "Send Message"
Depending on users' notification settings, they may receive an email alerting them that they've received a new message in their YouTube inbox, or they may not see it until the next time they log into their YouTube account.
What if I don't hear back from from the user?
Again, we encourage you to reach out to users, but it is your newsroom policies that should guide whether or not you require direct contact with users before re-broadcasting their videos on air.
Invite people to create content just for you
The YouTube community can complement your programming and broaden your reach
---
YouTube Direct allows you to embed a YouTube uploader directly into your own site, enabling your organization to request, review and re-broadcast user-submitted videos with ease. Find out more at youtube.com/direct.
Google Moderator gives you the tools to start a dialogue within your YouTube channel or on your website. You start the conversation around a particular topic, and your audience creates video and/or text submissions around that topic and votes their favorites to the top. Presidents and Prime Ministers have used the feature to engage citizens in debates and townhalls. News organizations have solicited questions from the community for interviews with high-profile newsmakers. Learn more at youtube.com/moderator.
Contests. If you have an idea for a contest on YouTube and would like to bring a sponsor on board, learn more at youtube.com/advertising_overview.
Case Studies
---
YouTube, Lenovo, and Space Adventures are running a competition for 14 - 18 year olds to find a space experiment which will be performed by NASA astronauts, 250 miles above Earth aboard the International Space Station, for the whole world to see live on YouTube in late Summer 2012.
A competition to find the world's best storytellers, connect them with a global audience, and provide one deserving entrant with a career-changing opportunity. YouTube and Emirates, in partnership with the Venice Film Festival and Scott Free Productions, invite content creators around the world to submit a 15-minute, story-driven video to YouTube.com/yourfilmfestival. Ten finalists screen their work at the 69th Venice International Film Festival in August 2012 and a grand prize winner will be awarded a $500,000 YouTube original production grant to work with Scott Free, ultimately creating a brand new work for the world to see.
In one of the first web-to-TV integrations ever, we partnered with CNN to produce a pair of presidential primary debates during the 2008 election race in which voters asked questions of the candidates through YouTube videos. We collected over 3,000 video questions for the Democratic candidates, over 5,000 questions for the Republican candidates, and the debates were viewed tens of millions of times on TV and the web, inspiring similar programing initiatives for elections across the world. This model has now been replicated dozens of times, and YouTube partnered with several local news organizations on 2010 midterm election debates (see examples in Colorado and Iowa.
In the wake of the Gulf Coast Oil Spill, YouTube partnered with PBS to showcase the live stream of the leak. In tandem, we launched a Google Moderator series on YouTube asking citizens to contribute their ideas on the best way to stop the spill, and clean up the mess. Over 15,000 people submitted their ideas in both video and text and cast over 100,000 votes on their favorite solutions. The best ideas were showcased on-air in a PBS NewsHour Broadcast. Through this program, the number of subscribers to PBS NewsHour's YouTube channel doubled in 24 hours.
PBS and YouTube partnered with dozens of civic engagement non-profits and election reform organizations on "Video Your Vote", a program designed to encourage voters to document their 2008 Election Day experience on video. The goal was to increase transparency in the democratic process and to create a rich narrative of the voting process across the nation. Over 2500 videos were submitted to the Video Your Vote YouTube channel from all 50 states, with the best submissions highlighted in PBS NewsHour's Election Day broadcast coverage and on the YouTube homepage. We took the same model to Iraq in March 2010, partnering with Al Jazeera English to cover the Iraq election.
CNN and YouTube partnered to bring citizen voices to the United Nations Climate Change Summit in Copenhagen in the "CNN/YouTube Debate on Climate Change". Leading up to the debate, citizens were invited to submit video and text questions through Google Moderator on YouTube. Over 5500 submissions came in from the public, and the top selections were posed to a panel of climate change leaders including Kofi Annan and Thomas Friedman in Copenhagen. The event reached over 220 million households through a YouTube live-stream and CNN broadcasts.
Good Morning America used YouTube Direct to collect videos around the Thanksgiving holiday in the fall of 2009. The hosts of Good Morning America asked their audience to upload their videos via YouTube on abcnews.com, expressing what they were most thankful for. The top clips were then aired in a montage on GMA's Thanksgiving Day broadcast.

Fox News's Bret Baier used Google Moderator to collect questions from his audience to pose to President Barack Obama in an exclusive interview. In less than 24 hours, he collected over 100,000 votes on nearly 5,000 questions.

When Reuters set out to produce a live debate on the global economy, they wanted to bring new voices to the discussion. So in addition to bringing together top economic experts from government and academia, they brought two top YouTube commentators to New York to debate, Cenk Uyger (of The Young Turks on YouTube) and Lee Doran (How the World Works on YouTube). Their lively discussion took their online debate to a national stage and made for great television.
Using Google Moderator to crowd-source questions, we've partnered with several public figures (from President Obama to Elmo) and media organizations to do in-depth YouTube Interviews.