Tobacco Products
-
Break the Chain of Tobacco Addiction
Get News and Information

Emails: Our email updates provide information specifically for retailers on sales, marketing, and distribution of tobacco products.

Break the Chain of Tobacco Addiction
An Education Campaign to Help Tobacco Retailers Comply with FDA Regulations
Tobacco retailers play a direct role in protecting kids from nicotine addiction and the deadly effects of tobacco use. FDA recognizes that tobacco retailers can help prevent our nation's youth from becoming the next generation of Americans to die prematurely from tobacco-related disease.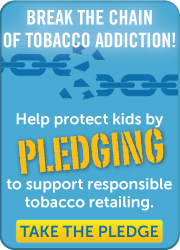 By complying with federal and state tobacco regulations, retailers help keep tobacco products out of the hands of youth and break the chain of tobacco addiction.
Explore our Break the Chain of Tobacco Addiction resources:
Use these materials and tools to learn more and help raise awareness of federal tobacco product regulations.
Learn about federal tobacco regulations and guidance focused on the sale, distribution and marketing of tobacco products.
Learn about the series of webinars on federal tobacco regulations. These webinars are designed to provide FDA tobacco compliance education and information to retailers and small businesses. Each webinar includes a Q&A session to provide participants the opportunity to have their questions answered by FDA.
Help protect kids by pledging to support responsible tobacco retailing.
Get information on how to comply with federal tobacco regulations, enforcement activities, and compliance checks.
-