The Center for the Book in the Library of Congress invites people of all ages to discover the fascinating people, places and events that await you whenever you read.
National Ambassador for Young People's Literature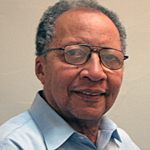 Walter Dean Myers is the third National Ambassador for Young People's Literature, appointed by Librarian of Congress James H. Billington in January 2012. Myers will serve in the position through 2013.
Read more
Festivals
The National Book Festival is the Library's annual celebration of books and reading. Authors from across the country entertain participants with insights into their work.
Other book festivals and literary events are held nationwide. There is probably one near you.
Find a festival near you
Books Online and Suggested Reading Lists
Throughout Read.gov, you will find classic books for readers of all ages that have been digitized for online reading, as well as lists of suggested titles that may be obtained at your local library.
Braille Literacy
The National Library Service for the Blind and Physically Handicapped makes it possible for Americans living with visual impairment to enjoy a good book, magazine and even music scores. Read More
Letters About Literature
Is there a book that has changed your life? Are you in grades 4-12? Write a letter to a favorite author on how his or her book affected you and you could win national recognition -- and an award for you and your school library.
Author Webcasts