VAOnline.org
Helpdesk | Quick Victim Service Link Locator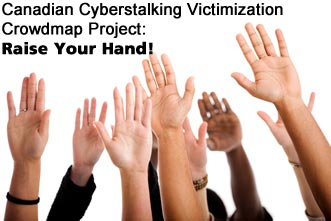 We are extremely pleased to announce the launch of the Canadian Cyberstalking Victimization Crowdmap Project - Raise Your Hand!: https://crowdmap.cyberstalking.ca/
Canadian statistics on cyberstalking victimization are rarely available to the public. This crowdmap project seeks to provide cyberstalking victims with a voice, by allowing them to anonymously Raise Their Hand to show they
have been, or are, being stalked online by someone who makes them fear for their life.
A crowdmap is geographical database of anonymous reports from the public, collected by voluntary participation, a tactic known as crowdsourcing.
Reports can be filed through our secure web site, via e-mail, and through apps available for iPhone and Android smartphones.
Canadian Victims of cyberstalking can report on their situation and their general location (by city only) on a map, which will enable the public to see the number of cyberstalking cases which take place in Canada. The map is interactive and filterable, allowing users to screen for both location and duration of cyberstalking. Additional information can be posted in each report, which will be edited to preserve privacy.
-------
NEW: Benefits for Corporate Donors
Donations by corporations and businesses are extremely important to us. To reflect this, we provide corporate donors with a range of recognition options on our web site, in our projects, and in tangible awards. See our donations area or download the VAOR Corporate Sponsorship flyer for detailed information!
---

Victim Assistance Online is non-profit information, research and networking resource for victim assistance specialists, professionals in related disciplines and all interested in the field of victimology.
We research, review and publish link directories and a virtual library on more than 40 victim assistance related topics, totaling more than 3000 links to organizations, agencies and services around the world.
We also maintain a of number of regional and international Contact Networks of victim assistance staff and related professionals; our Networks link together more than 600 organizations, agencies and educational institutions in 28 countries.
Our members comprise an international community of victim assistance professionals, program managers, government representatives, academics, researchers, law enforcement officers, NGOs and victim rights advocates.
A piece of news or information broadcast through our Networks can be received by hundreds of individual agencies around the world within minutes, potentially affecting tens of thousands of victims of crime, tragedy or the abuse of power. Similarly, we can access the collective knowledge of our members and their organizations, who present a communal knowledge bank deeper and more all-encompassing than any single database or ordinary reference service could provide.
Have a Question? Ask our Helpdesk!
Are you a victim service professional or research academic looking for information, resources or referrals for your organization or a survivor of crime or tragedy? Can't locate the resources or information your need on our website?
Submit your question to our Helpdesk! Your message will receive priority consideration from our staff. Should they not have the information you require right at hand, they will consult with the members of our Contact Networks, which includes the organizations listed for our International, Canadian and Research listservs.
We cannot and will not respond to questions regarding requests for legal advice, online counselling or private business promotions. VAOnline.org reserves the right to refuse to respond to messages as it deems fit.

NOTE: We cannot guarantee the accuracy or applicability of information or advice provided by other organizations; Helpdesk requestors agree they assume total and sole responsibility for following such advice.
Quick International Victim Service Link Locator
Police and Public Victim Program Links
Victim/Witness Court Program Links