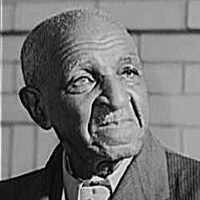 George Washington Carver

Born: About 1864 (exact date is unknown)
Died: January 5, 1943

George Washington Carver was born a slave in Diamond Grove, Missouri, around 1864. He is one of the nation's most famous agricultural scientists. He is best known for his research on peanuts and his commitment to helping poor Southern African American farmers.

Carver worked at Tuskegee Institute in Alabama for most of his adult life. In 1943, soon after Carver's death, President Franklin D. Roosevelt made Carver's boyhood home a national monument. It was the first national monument to honor an African American.