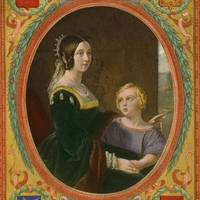 Queen Victoria with the Prince of Wales
Born: October 6, 1820, Stockholm, Sweden
Died: November 2, 1887, Malvern Hills, Shropshire, England

Jenny Lind was born Johanna Maria Lind on October 6, 1820, in Stockholm, Sweden. She was only 17 years old when she sang in her first opera in Stockholm. Europe was caught with "Jenny Lind fever" by the time she came to America. Even Queen Victoria of England was impressed with her.

"The great event of the evening. . . ," Queen Victoria wrote in her diary on April 22, 1846, "was Jenny Lind's appearance and her complete triumph. She has a most exquisite, powerful, and really quite peculiar voice, so round, soft, and flexible."