WARNING: Historical recordings may contain offensive language. Read the disclaimer
About the National Jukebox
The Library of Congress presents the National Jukebox, which makes historical sound recordings available to the public free of charge. The Jukebox includes recordings from the extraordinary collections of the Library of Congress Packard Campus for Audio Visual Conservation and other contributing libraries and archives.
Find out more about the National Jukebox project
First Time Here?
Find out about playlisting, what "matrix" means, and other ways to get the most from the National Jukebox.
Featured Recordings and Playlists
12 tracks

Gems from the Jukebox

(34:12)

Here is an eclectic mix of a dozen selections from the National Jukebox's vast array of Victor records. It features ragtime, opera, Hawaiian music, a New York-dialect specialty, and two African American recording pioneers, the Dinwiddie Colored Quartet and comedian Bert Williams.

Cat duet

(03:01)

Ada Jones
Victor 16751
Matrix/Take: B-6116/2
1908-04-16
Featured Playlist:
Rivers

Listen
Featured Artist:
Samuel Siegel

Listen to Samuel Siegel
Featured Genre:
Comedy

Listen
How'd They Do That?
It took a lot of work to go from a 78 rpm disc to a digital recording that can be played online. Find out what was involved in creating the National Jukebox
Links to more historical digital recordings and information
At the Library of Congress:
Other related sites:
1919 Victrola Book of the Opera
Stories of the operas with illustrations and descriptions of Victor opera records.
News
The National Jukebox debuts featuring more than 10,000 78rpm disc sides issued by the Victor Talking Machine Company between 1900 and 1925.
Imagine your computer as a new Gramophone purchased for family and friends to enjoy in your home parlor. Audition popular recorded selections of the beginning of the 20th century years—band music, novelty tunes, humorous monologues, hits from the season's new musical theater productions, the latest dance rhythms, and opera arias.
Victor Advertisements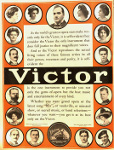 The success of the Victor Talking Machine Company is often attributed to its aggressive and comprehensive print advertising campaigns. Its trademark, Nipper the dog listening to "His Master's Voice," was one of the most recognizable of the twentieth century.
View the Victor Advertisements
See all features
Coming Soon to the National Jukebox
more of the earliest Victor discs (1900-1903) from National Jukebox partners David Giovannoni and Mark Lynch, including some very rare fourteen-inch discs.
many more selections from the 1919 edition of the Victor Book of the Opera
thousands more Victor 78s from the collections of the University of California, Santa Barbara.
New recordings are added to the Jukebox periodically. Later this year, we will begin digitizing recordings from additional record labels, including Columbia and Okeh, along with selected master recordings from the Library of Congress Universal Music Group Collection.