The American Folklife Center at the Library of Congress
presents the Benjamin Botkin Folklife Lecture Series
AN ACQUISITIONS & PRESENTATION PROJECT
June 20, 2008 Event Flyer
Old Cultures/New Contexts:
Presenting the Traditional Music and Dance
of Urban Immigrant Communities
An Interview with Ethel Raim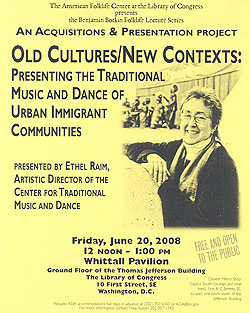 In this presentation, ethnographer and performer Ethel Raim, co-founder and artistic director of New York's celebrated Center for Traditional Music and Dance (CTMD), will discuss her five decades of work with community-based traditional artists in urban America. Raim has documented and collaborated with a wide variety of urban ethnic communities. These communities often had little in common with each other, except a strong commitment to their traditions and the presence of outstanding master artists. Through CTMD, Raim and her colleagues identified and documented performers, strengthening commitments and educational opportunities within communities. At the same time, they developed innovative approaches that introduced to mainstream audiences many traditions that had previously been known only to small ethnic groups. By educating Americans about the wealth of world cultures surrounding them, she literally and figuratively brought ethnic music from church basements to center stage. Raim will share stories about what it was like to be at the epicenter of the theoretical and applied folklore movements that rediscovered and revitalized numerous performing genres — including Irish, Albanian, Puerto Rican, and Jewish klezmer musics - that are now integral to America's musical landscape.
For almost five decades, Raim's research on ethnic music, and her work with community-based traditional artists, has had a profound impact on our musical landscape. Beginning at a time when "folk music" was practically synonymous with rural and Anglo-Saxon (at least to most Americans), Raim drew her inspiration from the lilting, unaccompanied Eastern European melodies she grew up with in New York. Her initial interests in Balkan music and dance led her to document and collaborate with an ever-widening panoply of urban ethnic performers, master artists, and communities.
Raim came to this work with impeccable folk revival credentials: In 1959, with a freshly minted music degree from City University of New York, the twenty-three-year-old Raim went to work for Sing Out! magazine. As the folk revival gathered steam, Raim generated book ideas, and transcribed music for many of the early songbooks from Oak Publications, which introduced thousands of people to traditional music. A stalwart member of the New York folk music community, she recalls sitting with Bob Dylan at a Horn & Hardart café in midtown Manhattan and helping him transcribe "Blowin' in the Wind" for Sing Out! She was involved with the early Newport Folk Festivals, and she founded, directed, and sang with the Pennywhistlers - the influential a cappella women's vocal group whose recordings of traditional Yiddish, Russian and Balkan music were seminal in broadening America's tastes and understanding of ethnic music.
Ethel's love of Balkan music eventually brought her in contact with fellow New Yorker Martin Koenig, an inspired folk dancer and teacher who founded the Balkan Arts Center in 1968. In 1976, Ethel became the co-director of the Center, which was renamed the Ethnic Folk Arts Center in the 1980s, and later developed into the Center for Traditional Music and Dance. In the early 1970s, the duo was asked to direct programs for the Smithsonian Institution's Festival of American Folklife, and also undertook fieldwork in Eastern Europe. Raim and Koenig shared a vision about how they wanted to present traditional performances. Ethnic music and dance, they believed, needed to be presented as an integral part of the community. They brought this program model with them to the Balkan Arts Center. During the late 1970s and '80s, they worked extensively with New York's Ashkenazic Jewish, Italian, Puerto Rican and Irish communities. Through documentation, research, and innovative programming, they nurtured master artists and created artistic opportunities for ethnic performers striving to find a place in their new homeland. For example, their work with older Irish master musicians and dancers led to the formation of the acclaimed group Cherish the Ladies, and their Jewish Music Tour with the legendary clarinetist Dave Tarras stimulated a revival of interest in klezmer, leading to "second careers" for many of its master performers.
In the 1990s, CTMD formalized this model into its Community Cultural Initiatives - a collaborative program designed to establish and nurture community-based artistic documentation and presentation projects. In recent years, CTMD has worked in partnership with numerous cultural groups, including the Albanian, Arab, Asian Indian, Indo- Caribbean, Dominican, West African, Soviet Jewish, Philippine, Mexican, Peruvian, Chinese, and Ukrainian communities. CTMD is among this nation's great proponents of what the late Alan Lomax calls "Cultural Equity," — the right of every community or ethnic group to express and sustain its distinctive cultural heritage.
Ethel Raim
Artistic Director
Center for Traditional Music and Dance

The American Folklife Center was created by Congress in 1976 and placed at the Library of Congress to "preserve and present American Folklife" through programs of research, documentation, archival preservation, reference service, live performance, exhibition, public programs, and training. The Center includes the American Folklife Center Archive of folk culture, which was established in 1928 and is now one of the largest collections of ethnographic material from the United States and around the world. Please visit our web site.