We Huffed, and We Puffed, and We Built the House Up!
Volunteers prepare the building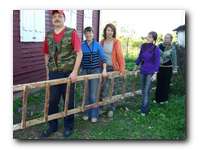 During the construction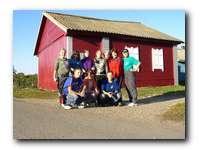 Volunteers in front of the new Shelonnik Center for Civic Initiatives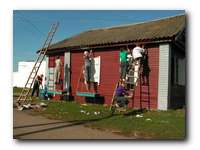 Putting on the finishing touches
Open World alumnae Olga Boitsova and Tatiana Malkova, representing the Novgorod civic organization Healthy Lifestyles, opened the new Shelonnik Center for Civic Initiatives in November. These two alumnae have been very active in their region, and it was their
earlier work with youth
that provided them with the inspiration to launch the new center.
For the last two years, Healthy Lifestyles has organized summer youth camps near the village of Korostyn. The campers create hiking trails, receive training on conducting environmental campaigns, learn survival skills, and take part in other outdoor activities devoted to creating a sustainable outdoor recreation area that is environmentally friendly.
Boitsova and Malkova decided that these activities, which are currently administered from the city of Novgorod, should have a more permanent base in Korostyn. They found an old pre-World War II cottage that needed some repairs. Healthy Lifestyles' teenage volunteers enthusiastically remodeled the cottage both inside and out to make it a sustainable structure for years to come.
Now complete, the cottage is home to the newly inaugurated Shelonnik Center for Civic Initiatives. The center will provide opportunities for local residents to be more active in local and regional development. The center was named Shelonnik after the southwest wind, which is known as the wind of change.
The opening ceremony for the center was held on November 4, 2006, during the Russian holiday of Unity Day. It was attended by local government officials, young activists from the region and their friends and colleagues from other civic organizations. The center's first order of business was to hold a roundtable on "Youth Initiatives for Local Community Development" and an environmental game. Thanks to the support of Open World alumni, local youth already have a great start in being an integral part of local development.