Ulyanovsk Open World Alumni Center Grand Opening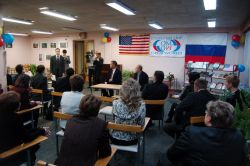 Opening ceremony for the center for Ulyanovsk Open World alumni.
Open World host judge Ronald S. W. Lew (left) and Open World's Alex Khilkov cut the ribbon. Also shown is Open World's Yelena Yefremova (foreground).
A new center for Open World alumni opened at the Ulyanovsk Regional Library for Children and Youth on October 20 with about 30 Open World alumni, future program participants, and local civic and cultural leaders in attendance. Also on hand for the celebration were Open World host judge Ronald S. W. Lew of Los Angeles and Alex Khilkov and Yelena Yefremova of Open World's Moscow staff.
The prime movers behind the center's creation were Open World Regional Alumni Coordinator Aleksey Kuznetsov, whose day job is head of the Regional Office for Attracting Investment, and Library Director Svetlana Kildyusheva, herself an Open World alumna. Although local Open World alumni had already been using the youth library as their regular meeting place, Kuznetsov came up with a proposal to enrich their surroundings with English-language resources. In response, Open World's Moscow staff, with support from the U.S. Embassy Cultural Section, sent Kildyusheva a trove of reference materials, periodicals, textbooks and other literature on American culture and society.
In his welcoming remarks, Kuznetsov, the event's master of ceremonies, thanked Open World for its support and expressed confidence that the new center will become the hub of alumni activities in the Ulyanovsk region. This sentiment was echoed by Kildyusheva, who also thanked the Open World Leadership Center for helping provide materials that will benefit the larger community as well as local alumni. Khilkov and Yefremova used their remarks to emphasize the importance of having such a facility at the alumni's disposal, since it serves as a bridge linking Russian and American cultures and helps the people of both countries stay in contact with each other.
A major highlight of the event was a question and answer session with Judge Lew, who was spending two days in Ulyanovsk as part of a lecture tour sponsored by the U.S. State Department Speakers' Program and organized by Open World. Attendees held a very interesting discussion with their American guest, asking him a lot of questions about his impressions of Russia, professional career, community involvement and family life. Many of those present were rule of law alumni, who shared their own experiences visiting U.S. courts and host families in different communities.
The gathering also provided an opportunity for alums to give some travel tips to Ulyanovsk Open World delegates heading to Providence, RI, and Parker, CO, in November.