Khasavyurt Open World Alumni Support Reading as a Tool for Community Development
Seminar participants
Seminar facilitator Angela Maksudova (left) and bookseller Asiyat Korgoloeva team up to promote literature to the young generation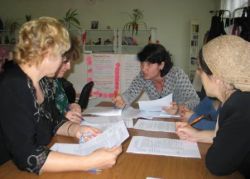 Seminar participants developing a model of intersectoral partnership to promote reading
On October 10-12, 2006, the Central Gamzatov Library in Khasavyurt hosted a seminar on "Forming Partnerships to Promote Reading as a Factor in Local Community Development." The seminar was organized with the assistance of local Open World alumni.
The seminar attracted 37 participants, 9 of whom were Open World alumni. Attendees included municipal officials, civic leaders, librarians and reporters from the cities of Buynaksk, Kaspiysk, Kizlyar and Khasavyurt and the Gudermes region in the Chechen Republic. Participants discussed various aspects of public-private partnerships to encourage reading. They also had a chance to take part in an interactive training session, a master class, a creative workshop and a roundtable discussion.
The participants were introduced to the successful experience of Khasavyurt librarians and their "American Indian Village" project, which successfully partnered their library with local government, businesses and media. The Open World alumni involved in the project demonstrated how it encouraged 100 local youth to read (
click here to see related story
). The project clearly demonstrated the great effectiveness of intersectoral partnerships in solving local problems.
The seminar looked at reading centers in the United States and their counterparts in Khasavyurt to highlight the connections between reading and local community development. Participants examined partnership options for promoting reading to youth and suggested their own ideas for actively involving people in reading-related activities and promoting literature among the general public.
Zumrud Abdullaeva, assistant director of the Main City Library in Kaspiysk, expressed her great appreciation for the seminar. Abdullaeva noted that people who exchange ideas multiply their knowledge and experiences a hundredfold. By sharing their ideas, the seminar participants now have more opportunities and ideas to change the life of their fellow citizens for the better.
Asiyat Korgoloeva, a business owner and bookseller from Buynaksk, lamented the current reading preferences in the country. However, she happily added that while local librarians used to be her only allies in promoting great works of literature, the seminar provided her with new contacts and ideas.
Open World alumnus Arsanali Murtazaliev, the head of the Khasavyurt municipal administration, believes that a city that reads is a genuine sign of the positive development of the local community. Murtazaliev commented that the seminar was particularly useful in that its organizers were able to bring together and engage people from various sectors of the society to address this important issue.