Ever wonder how many people are reading the stuff you share on Twitter and Facebook? With bitly you can discover how many people clicked on your links, and where the traffic comes from. It's one interesting way to understand the success of the links you're sharing. Just take a bitly link, add a + to the end, and enter it into your browser to land on the info page.
On the info page you'll see the global stats of a link, which is the aggregate click count- all the clicks generated by everyone who shared that specific URL. If you shared the link from your own bitly account, you'll also be able to see stats specific to the link you shared. When you land on an info page for any bitly link you can see all the clicks generated for that user's version of the link (user hash) and all the clicks generated for all versions of the same URL (global hash) shortened using bitly. One reason to sign up for an account is to get a user hash for your bitly link. This allows you to see click counts for just your shortlink. The hash is what we call the string of characters and numbers in your bitly link.
One way to begin understanding the power of bitly's analytics is to look at a popular link found "in the wild." This past Sunday The New York Times ran a story about Maria Popova (@Brainpicker on Twitter) called, "She's Got Some Big Ideas". The article discusses her influence on Twitter and her ability to curate content that engages a varied audience of writers, scientists, artists, and technologists. When The New York Times asked how Popova views her job she responded with: "Helping people become interested in things they didn't know they were interested in, until they are." We think she does a pretty good job of that.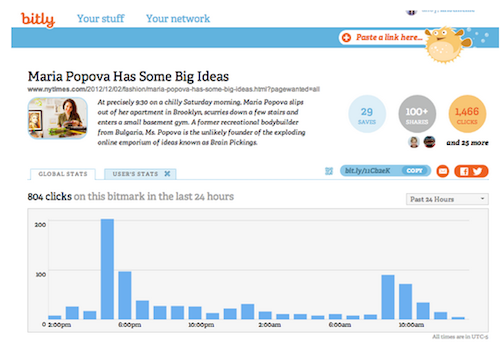 Popova uses bitly links on Twitter, and so do a lot of other Twitter users across the web (we shorten 80 million links per day). The New York Times article was originally shared by the Times, but then started to move across the web through other influencers and publishers. The graph in the above info page view shows click traffic over 24 hours, indicating an initial surge in shares and clicks, followed by a lull on Sunday night and a resurgence early Monday morning. 
Interested in seeing how your links are traveling and when in realtime? Find the info page for your own links by navigating to the stats page and clicking on a specific link, or simply add a + sign to the end of your shortlink and enter it into your browser. Have a question? Let us know. Tweet at @bitly, or shoot us an email to support@bitly.com.
3 days ago