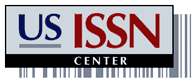 ||

About the U.S. ISSN Center

||

The U.S. ISSN Center, part of the international ISSN Network, assigns International Standard Serial Numbers (ISSN) to serials published in the U.S. The ISSN is a standard identifier for serials (e.g., journals, magazines, newsletters, newspapers, annuals) whether published in print, online or other media. Each medium version is assigned a separate ISSN.
Frequently Asked Questions (FAQs)
||

ISSN General Information

||

ISSN is for Serials
The ISSN explained in detail, including:

ISSN for Electronic Serials
A separate ISSN is required for each medium. To date, thousands of ISSN have been assigned to serials on computer disk, CD-ROM and online electronic serials.

What's in a Name?
Presentation guidelines for serial publications (prepared by the Serials Section of ALCTS, American Library Association).
||

Special Topics

||

Searching in WorldCat
Your publication is now searchable by the title or the ISSN number as soon as the ISSN has been assigned.
Read more about searching
||

ISSN Application Form

||

The ISSN application is now "fillable" online. Once completed, it should be emailed, faxed, or mailed to the Library of Congress for processing. Full instructions and a link to the form are provided on the application form page.
Application form/instructions
||

News

||

Email Notification of ISSN Assignments
Official notification of ISSN assignments is sent by email unless otherwise requested.

Bibliographic Transformation and the ISSN
Slides from a presentation by Regina Romano Reynolds, director of the U.S. ISSN Center, at the ISSN General Assembly Meeting, Paris, April 26-27, 2012. Presentation
||

Contact Us

||

Library of Congress
ISSN Publisher Liaison Section
101 Independence Ave., S.E.
Washington, DC 20540-4284

Tel.: (202) 707-6452
Fax: (202) 707-6333
Email: issn@loc.gov

Service Hours: 
Monday-Friday 9:30 am – 5:00 pm.
Last Updated: December 5, 2012