iOS 6 gives you more features to make the things you do every day even better. It's free and easy to upgrade wirelessly on your iPhone, iPad, or iPod touch.

Beautifully designed from the ground up (and the sky down), Maps changes the way you see the world. Map elements are vector based, so graphics and text are incredibly detailed — even when you zoom all the way in — and panning is smooth. Tilt and rotate to view an area, and Maps keeps the names of streets and places where they belong. Get visual and spoken turn-by-turn navigation and real-time traffic updates. Even soar over cityscapes to see the sights from the air in amazing, high-resolution quality.1 Learn more about Maps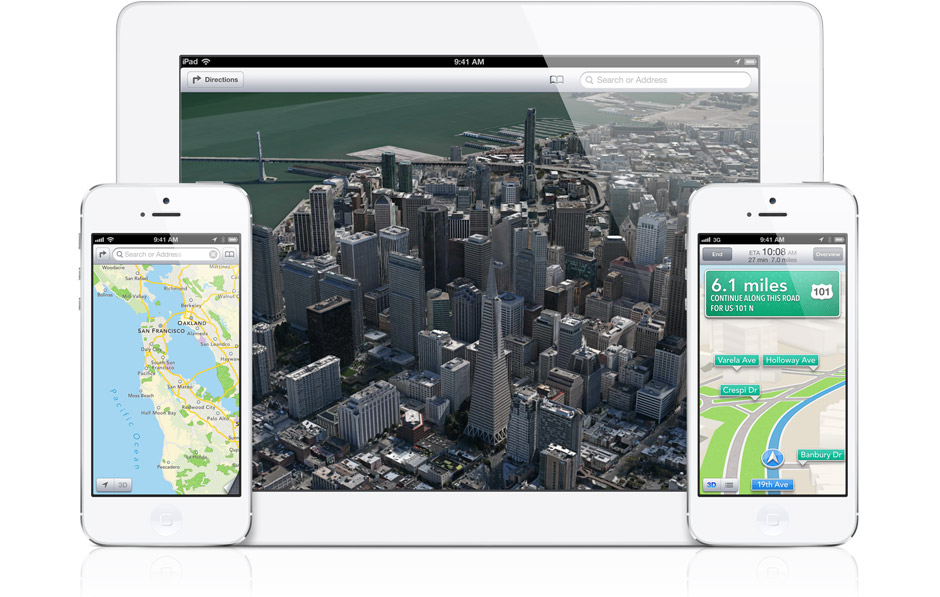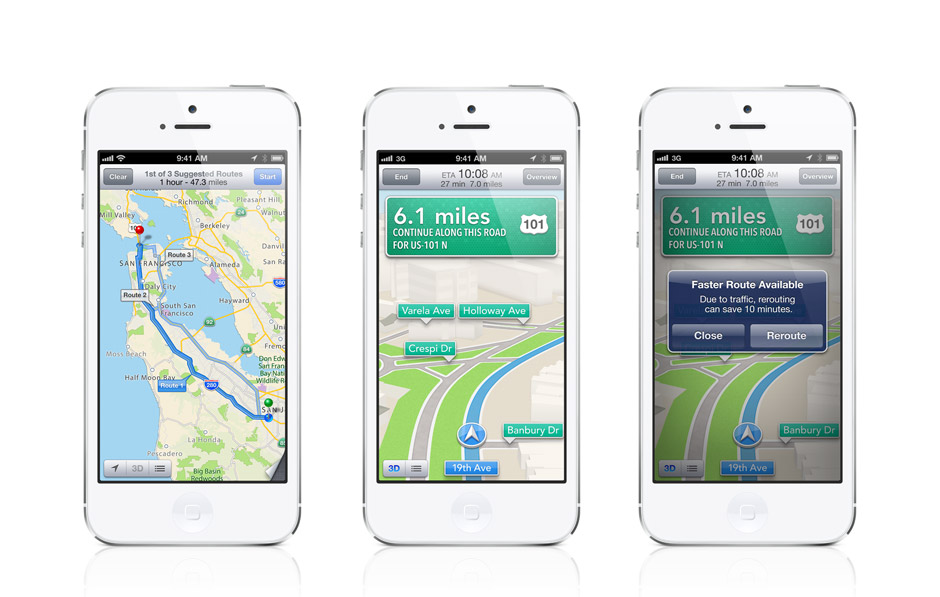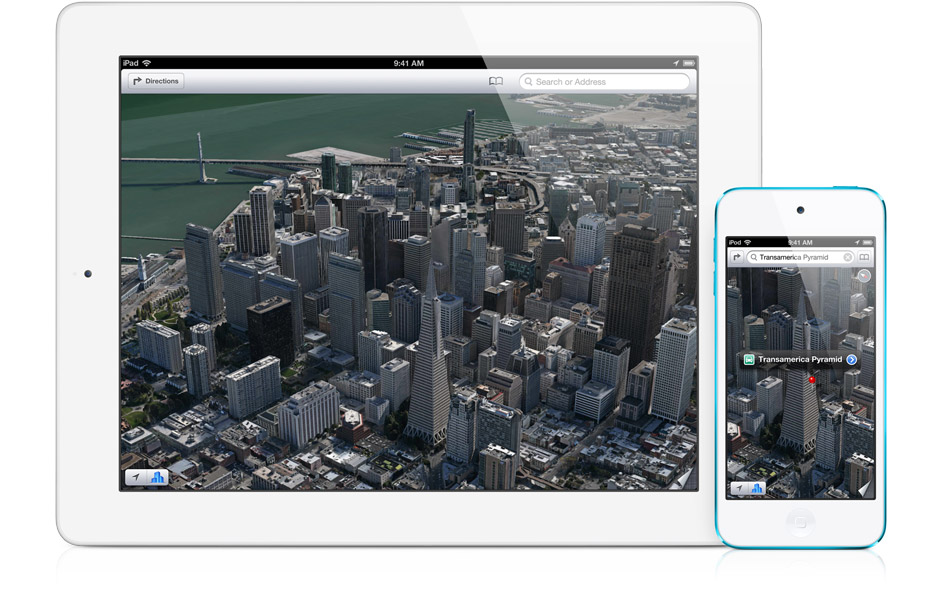 With iOS 6, Siri understands more languages and works in more countries.2 So you can get more things done in more places around the world. Want to know the latest scores and stats for your favorite teams and players? Thanks to iOS 6, Siri knows the answers. Or maybe it's movie night. Siri can show you the latest reviews and showtimes. Find the best restaurants in town and make reservations. Even have Siri open your apps for you — no tapping required. Say "Launch Flight Tracker" or "Open Angry Birds" and Siri does just that. You can also use Siri to post Facebook updates and tweet for you. Learn more about Siri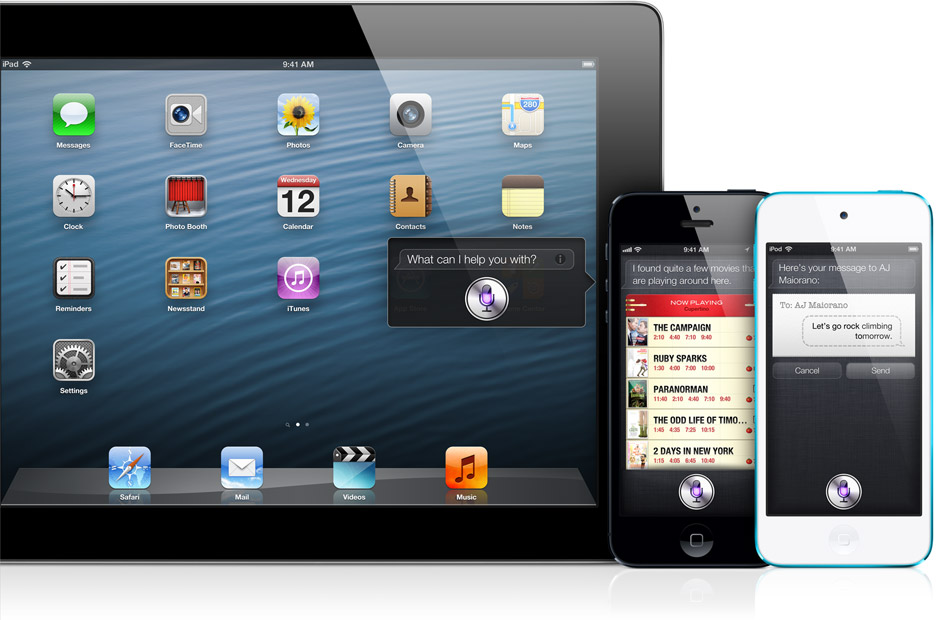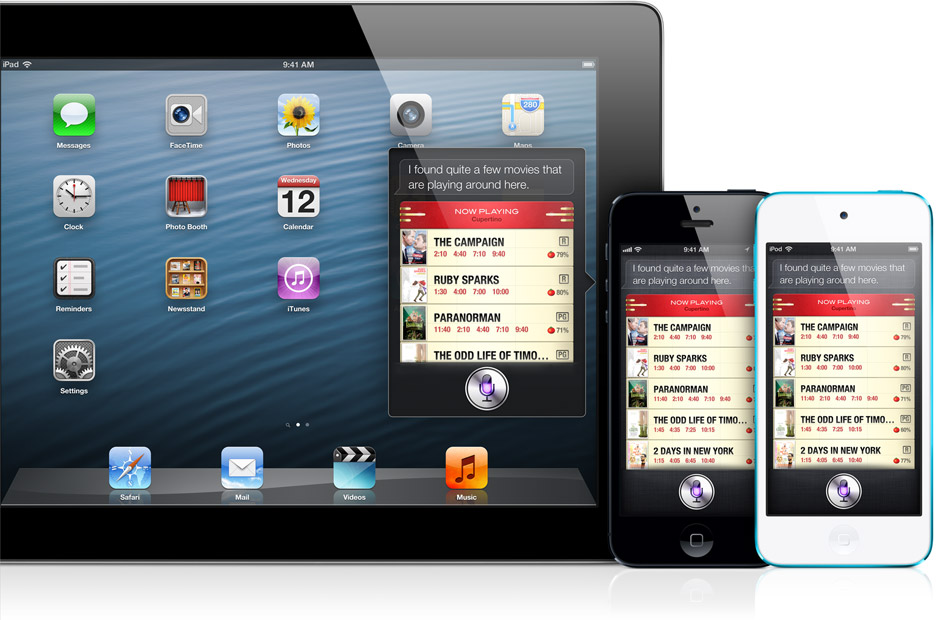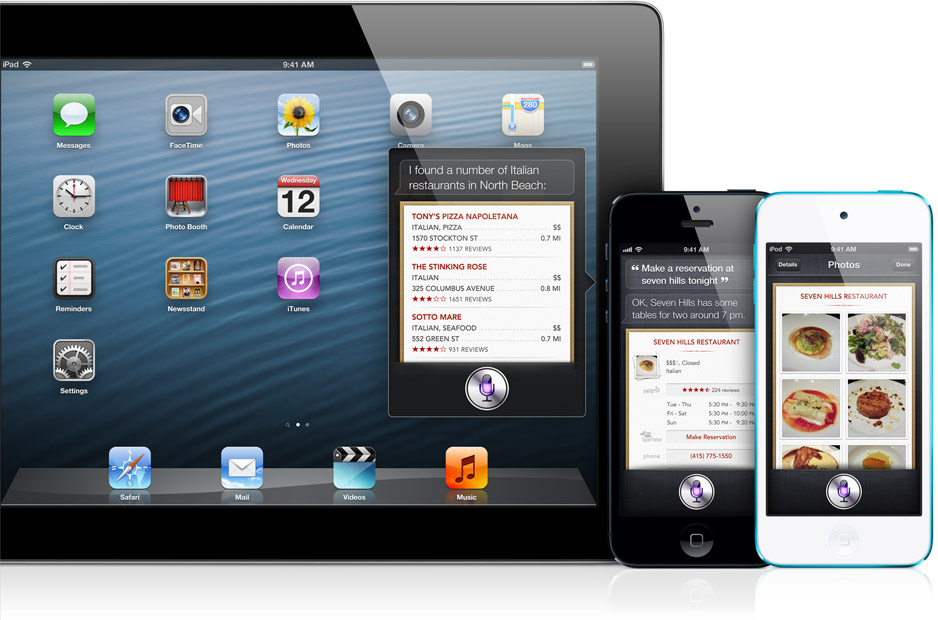 Now it's easier than ever to interact with the world's largest social network. And there's no need to leave your app to do it. Share a photo to Facebook right from Camera or Photos. Post your location right from Maps. Brag about a high score right from Game Center. If you have your hands full, just ask Siri to post for you. You need to sign in to Facebook only once, and you'll be off and sharing. Never miss another birthday or get-together, since Facebook events are integrated into Calendar. And your Facebook friends' profile information is integrated into Contacts, so when they update an email address or phone number you automatically stay up to date. Now that's something to post about.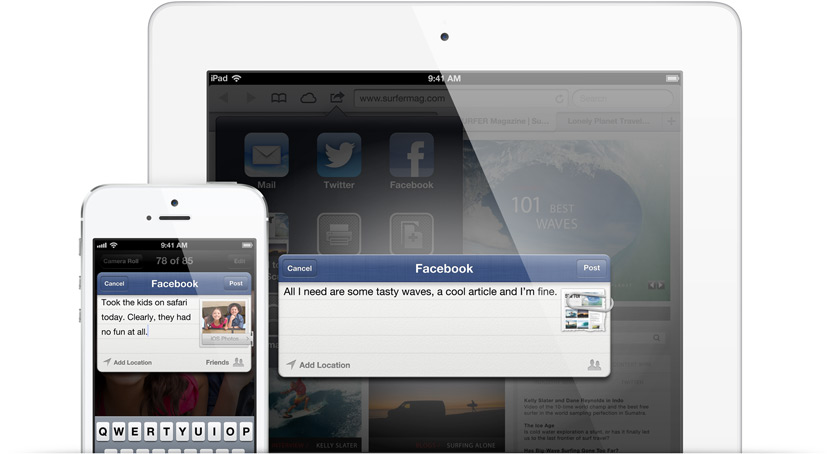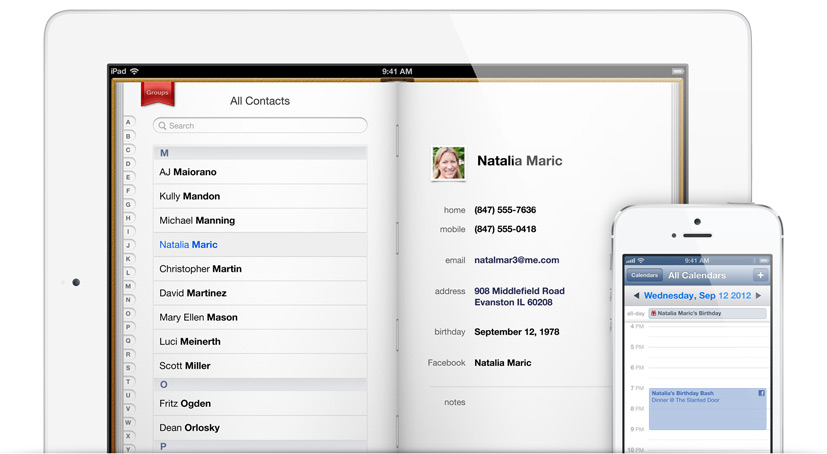 Now you can share just the photos you want, with just the people you choose. Simply select photos from the Photos app, tap the Share button, choose who you want to share your photos with, and they're on their way. Friends using iCloud on an iOS 6 device or a Mac running Mountain Lion get the photos delivered immediately in the Photos app or iPhoto. You can even view Shared Photo Streams on Apple TV. If the folks you're sharing with aren't using an Apple device, they can view your photos on the web. People can like individual photos and make comments. And you can share as much as you want: Your Shared Photo Streams don't count against your iCloud storage, and they work over Wi-Fi and cellular networks.

Your boarding passes, movie tickets, retail coupons, loyalty cards, and more are now all in one place.  You can add passes to Passbook through apps, emails, and websites from participating airlines, theaters, stores, and more. Then you can scan your iPhone or iPod touch to check in for a flight, get into a movie, and redeem a coupon. You can also see when your coupons expire, where your concert seats are, and the balance left on that all-important coffee bar card. Wake your iPhone or iPod touch, and passes appear on your Lock screen at the appropriate time and place — like when you reach the airport or walk into the store to redeem your gift card or coupon. And if your gate changes after you've checked in for your flight, Passbook will even alert you to make sure you're not relaxing in the wrong terminal.

FaceTime now works over cellular networks as well as Wi-Fi, so you can make and receive FaceTime calls wherever you happen to be.3 You can even make and receive FaceTime calls on your iPad using your phone number. That means you can use FaceTime wherever you are, on any device. And never miss another wink, smile, air kiss, or eye roll.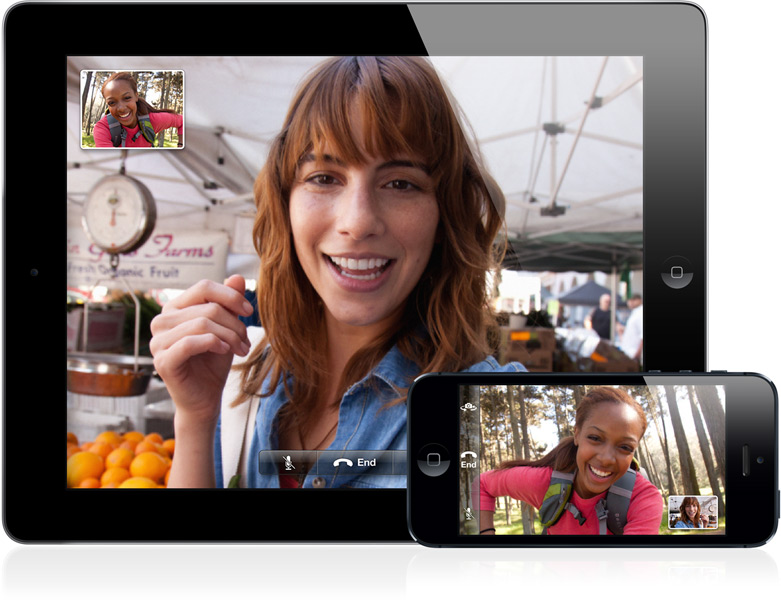 iOS 6 adds new calling features to your iPhone. Now when you decline an incoming call, you can instantly reply with a text message or set a callback reminder. And when things are just too hectic, turn on Do Not Disturb and you won't be bothered by anyone — except can't-miss contacts like your boss or your better half.
When a call comes in that you can't answer right away, swipe up to reveal options.

Quickly reply with an iMessage or SMS.

Use a preset message or write a custom one.
When a call comes in that you can't answer right away, swipe up to reveal options.

Set up a time- or location-based callback reminder.

Get an alert in an hour or when you leave your current location, arrive at home, or get to work.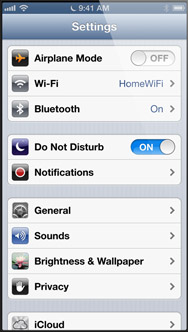 Redesigned with a more streamlined interface for easier reading and writing, Mail in iOS 6 lets you set up a VIP list so you'll never miss an important message from your accountant, your boss, or your BFF. It's even easier to add photos and videos to email messages. And to refresh your mailboxes, all you have to do is swipe down.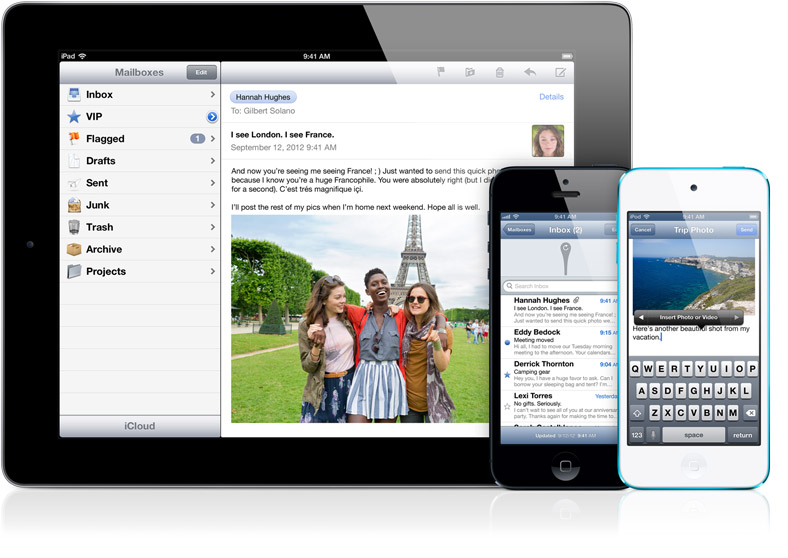 iOS 6 brings even better web browsing to your iPhone, iPad, and iPod touch. iCloud Tabs keeps track of which pages you have open on your devices, so you can start browsing on one device and pick up right where you left off, on whatever device is handy. Safari now saves web pages — not just links — in your Reading List, so you can catch up on your reading even when you can't connect to the Internet.4 And when you're posting a photo or video to eBay, Craigslist, or another site, you can take photos and video — or choose from your Camera Roll — without leaving Safari. When you really want to see the whole picture, turn your iPhone or iPod touch to landscape and tap the full-screen icon to view web pages without distractions.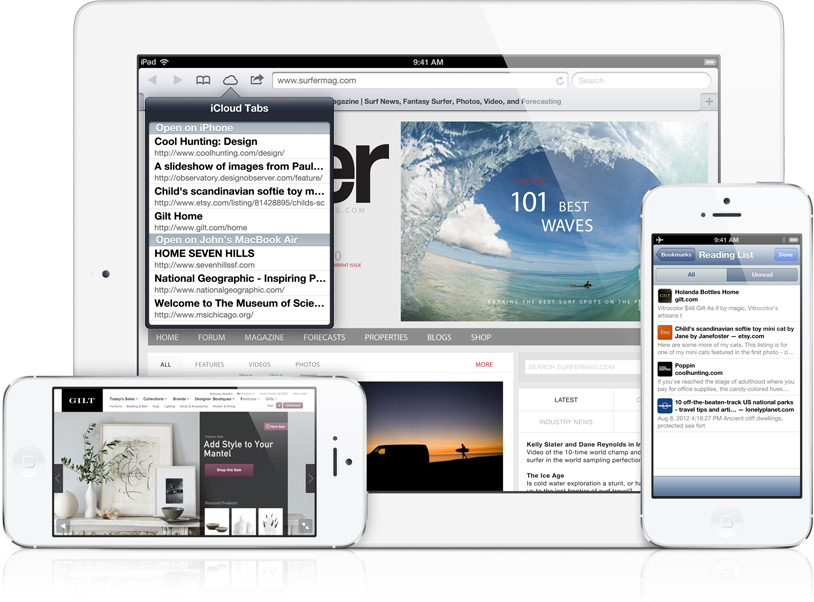 iOS 6 comes with even more features to make it easier for people with vision, hearing, learning, and mobility disabilities to get the most from their iOS devices. Guided Access helps students with disabilities such as autism remain on task and focused on content. It allows a parent, teacher, or administrator to limit an iOS device to one app by disabling the Home button, as well as restrict touch input on certain areas of the screen. VoiceOver, the revolutionary screen reader for blind and low-vision users, is now integrated with Maps, AssistiveTouch, and Zoom. And Apple is working with top manufacturers to introduce Made for iPhone hearing aids that will deliver a power-efficient, high-quality digital audio experience.5

The new panorama feature for iPhone and iPod touch lets you capture everything from a momentous family reunion photo to a sweeping vista.6 With one simple motion you can shoot up to 240 degrees — even vertically, to get that redwood tree, say. Then hardware and software work together to create one seamless, high-resolution panorama.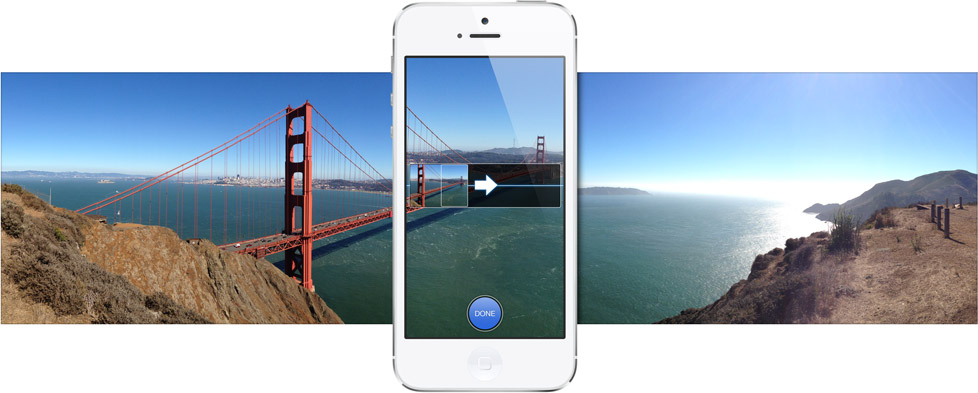 It happens. You misplace your iPhone or your iPad or your iPod touch. Luckily, iOS 6 and iCloud now offer Lost Mode, making it even easier to use Find My iPhone to locate and protect a missing device.7 Immediately lock your missing iPhone with a four-digit passcode and send it a message displaying a contact number. That way a good Samaritan can call you from your Lock screen without accessing the rest of the information on your iPhone. And while in Lost Mode, your device will keep track of where it's been and report back to you anytime you check in with the Find My iPhone app.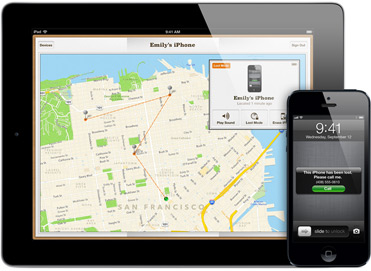 Find My Friends is a great way to share locations with friends and family.7 Those who share their locations with you appear on a map so you can quickly see where they are and what they're up to. And with iOS 6, you can get location-based alerts — like when your kids leave school or arrive home. Find My Friends can also notify others about your location, so you can stay connected or keep track of the ones you love.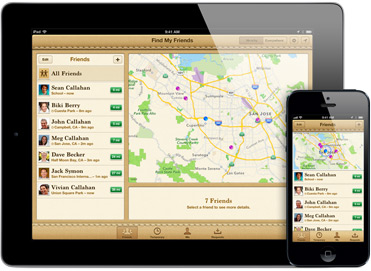 iOS 6 brings a new kind of shopping experience to the redesigned iTunes Store, App Store, and iBookstore. See the best of what's new in music, movies, TV shows, apps, and books at the top of each store's home page. Browse with a swipe of your finger and tap to learn more. Keep track of the music, movies, and TV shows you previewed by tapping the History button, and when you're ready, tap Buy to add something to your collection. With iCloud, your preview history is always up to date on all your devices. So you can start shopping on your iPhone and continue on your iPad. And now you can buy your favorite music, apps, and more without leaving the app you're in.

With precision text input, a comprehensive up-to-date Chinese dictionary, and handwriting recognition support for over 30,000 Chinese characters, iOS 6 gives Chinese speakers more features than ever. You can mix full and abbreviated Pinyin and even type English words in a Pinyin sentence without switching keyboards. And when you add words to your personal dictionary, iCloud makes them available on all your devices. Baidu is a built-in option in Safari, and you can share videos directly to Youku and Tudou. You can also post to Sina Weibo from Camera, Photos, Maps, Safari, and Game Center.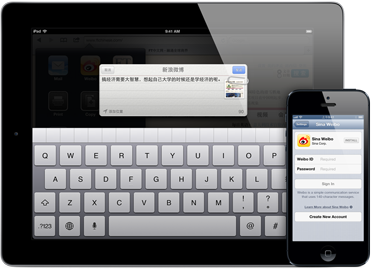 iOS 6 is compatible with:
iPhone 3GS

iPhone 4

iPhone 4S

iPhone 5

iPod touch
(4th generation)

iPod touch
(5th generation)

iPad 2

iPad with
Retina display

iPad mini