Site Map Search the Catalog Kids Zone Find a Library FAQ Sign Up Contact Us
NLS home > Current press release > Press release archive > Digital Talking-Book Player Design Winners Announced
NLS Press Release
Digital Talking-Book Player Design Winners Announced
---
For Immediate Release:
June 13, 2002
---
Winning entries in the Digital Talking-Book Player Competition, sponsored by the Industrial Designers Society of America (IDSA) in cooperation with the National Library Service for the Blind and Physically Handicapped (NLS), Library of Congress, were chosen on June 7. Six student-designed entries and a faculty advisor were named by a panel of six judges following an evaluation of 146 entries from 28 design schools across the country. Lachezar Tsvetanov, a senior from the University of Bridgeport in Connecticut, won first place and $5,000 with an entry titled "Dook."
The student design competition, which began January 1, 2002, and solicited entries from 55 IDSA-affiliated schools, was established to give students an opportunity to inspire the next generation of audio playback equipment currently being developed by the Library of Congress's free national reading program serving blind and physically handicapped readers.
The winning model resembles a book that opens to reveal a speaker and audio controls. Tsvetanov told IDSA, "It was great to work on a product addressing the challenges faced by those whose needs are frequently overlooked. This was not only a design exercise, but also a life experience." Tsvetanov, a native of Sophia, Bulgaria, is studying at the University of Bridgeport on a full tuition scholarship that he received for academic excellence.

The "Dook" closed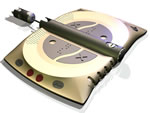 The "Dook" open
"I developed the concept of a book for my entry because many people could relate to the fact that a high percentage of talking-book readers are older. They would have something in front of them that resembles a book...something they were familiar with before losing their sight. And young people who use the Dook will feel they don't stand out in a crowd because it looks like a book," Tsvetanov explained.
Tsvetanov's faculty advisor from the University of Bridgeport, Robert Brainard, receives a $2,000 cash award. Student winners will be presented with their awards during the IDSA national conference, July 20-23, 2002, in Monterey, California.
The other winners included:
Second Place ($2,000): Christopher Garnaas and Laura Hackbarth, Milwaukee Institute of Art and Design. Entry titled "Nero." Faculty advisors: Pascal Malassigné (IDSA fellow) and Bill O'Dell.
Second Place ($2,000): Anna Mastriano, University of Bridgeport. Entry titled "Book Talk." Faculty advisor: Roy Watson.
Third Place ($1,000): Nicki Kuwahara, California State University, Long Beach. Entry titled "Digital Talking Book." Independent, self-directed project.
Third Place ($1,000): Brian Potempa and Michael Matheau Potempa, Milwaukee Institute of Art and Design. Entry titled "Insight Personal Assistance Device." Faculty advisors: Pascal Malassigné (IDSA fellow) and Bill O'Dell.
Third Place ($1,000): Emilie Williams, North Carolina State University. Entry titled "D1." Faculty advisor: Percy Hooper (IDSA member).
NLS director Frank Kurt Cylke said, "This contest has given NLS an opportunity to examine what the brightest students in the industrial design world proposed as solutions to the complex design challenges a digital talking-book player represents. We're truly pleased with the caliber of the entries and look forward to examining them further."
Cylke conceived the design competition, which was developed and coordinated by John Bryant, head of the NLS Production Control Section, working with Gigi Thompson, IDSA's senior manager of communications, and Jim Mueller, IDSA member and chair of the IDSA's Universal Design Professional Interest Section. Mueller, who served as a juror of the design competition, said, "The 2002 digital talking-book student competition has presented students with the unique opportunity to design a product that makes books and magazines accessible to hundreds of thousands of people with visual or physical disabilities each year. By encouraging students to design for all ages and abilities, the competition has given them vital insight toward successful design practice in the twenty-first century." Mueller is a national advocate of the idea of universal design and coauthor of the seven "Principles of Universal Design" used by competition jurors in evaluating the student entries. His work has been featured in publications by the Design Management Institute, Harvard Business School, IDSA, and numerous government agencies. "The Principles of Universal Design" may be accessed on the IDSA web site at <www.idsa.org/whatsnew/principles.htm>.
NLS has approximately 730,000 analog cassette talking-book playback machines in use worldwide today and maintains an inventory of more than 23 million copies of audio books and magazines. "The upgrade to digital versions of not only the playback machines but also the vast collection is the greatest challenge NLS has ever faced," Cylke said. NLS planning envisions introduction of digital talking books by the end of 2008. A complete overview of NLS's digital conversion project and information about the free talking-book program and other services for blind and physically handicapped individuals may be accessed on the NLS web site, <www.loc.gov/nls>.
In addition to Mueller, the jurors were:
Michael M. Moodie, NLS Research and Development Officer, who recently completed coordination of a five-year effort to develop a new national standard, "Specifications for the Digital Talking Book," ANSI/NISO Z39.86-2002.
Thomas Bickford, a senior reviewer for audio books at NLS. Bickford began reading talking books in 1948 with his first selection, The Three Musketeers, read by Alexander Scourby and played on hard disks at 33-1/3 rpm using steel needles.
Philip Vlasak, a partner of Personal Computer Systems of Michigan, which creates computer games for blind persons using the Windows operating system. He earned his bachelor's and master's degrees in Industrial Design from Pratt Institute in Brooklyn. Until he lost his sight in 1982, Vlasak worked as a designer for a department store chain.
Brian Matt, IDSA member and the founder and CEO of Altitude, Inc., a Boston-area product design and development firm with clients including Compaq, Microsoft, 3M, Symbol Technologies, and Motorola. He received his bachelor's in Industrial Design from Rochester Institute of Technology. He is a member of the board of directors of the Association of Professional Design Firms, has held various senior IDSA offices, and is an active member of the Design Management Institute.
Sam Leotta, an IDSA member and retired industrial designer who began his career before World War II. During the war, he designed bomber and fighter aircraft. After the war, he established an industrial design firm and for 47 years provided product design, development, engineering, graphics, and office space planning services throughout the country. Leotta's firm has received numerous design awards and patents. In 2000, Leotta assisted in the development and evaluation of IDSA universal design performance measures for products.
---
Posted on 2011-01-10