An Ongoing Response to Hurricane Sandy
An Ongoing Response to Hurricane Sandy
Scroll Down
Recovering and Rebuilding after Hurricane Sandy.
The response to Hurricane Sandy began while the massive storm was still gaining strength in the Atlantic Ocean. By the time it made landfall along the East Coast, FEMA teams and resources were already in place to begin helping the millions of people that would be affected by the storm's immediate impact. Recovery and clean up efforts have only intensified since then, as federal agencies, local governments, first responders and volunteers work together to recover, rebuild and come back stronger than before.
---
Help Others+
FEMA offers this list of suggestions for people who want to help storm survivors and affected areas:
Cash is the most efficient method of donating. Cash offers voluntary agencies the most flexibility in obtaining the most-needed resources and pumps money into the local economy to help businesses recover. Remember, unsolicited donated goods such as used clothing, miscellaneous household items, and mixed or perishable foodstuffs require helping agencies to redirect valuable resources away from providing services to sort, package, transport, warehouse, and distribute items that may not meet the needs of disaster survivors.
At the national level, many voluntary-, faith- and community-based organizations are active in disasters, and are trusted ways to donate to disaster survivors. In addition to the national members, each state has its own list of voluntary organizations active in disasters. If you'd like to donate or volunteer to assist those affected by Sandy, these organizations are the best place to start.
Give blood. Numerous blood drives have been canceled as a result of the storm and the Red Cross has a need for blood donations. To schedule a blood donation or for more information about giving blood or platelets, visit redcrossblood.org or call 1-800-RED CROSS (1-800-733-2767).
Affiliate with existing non-profit organizations before coming to the disaster area. Immediately following a disaster, a community can become easily overwhelmed by the amount of generous people who want to help. Contacting and affiliating with an established organization will help to ensure that you are appropriately trained to respond in the most effective way.
Be safe. Do not self deploy until a need has been identified and the local community impacted has requested support. Wait until it is safe to travel to volunteer sites and opportunities have been identified. Once assigned a position, make sure you have been given an assignment and are wearing proper safety gear for the task.
Be patient. Recovery lasts a lot longer than the media attention. There will be volunteer needs for many months, often years, after the disaster - especially when the community enters the long-term recovery period.
For more information, check out this volunteering resource page from FEMA.
&nbsp
Get Help+
If you live in an area affected by the storm, there are a number of resources available to help you get the recovery assistance you need.
There are four ways you can search for a FEMA Disaster Recovery Center:
Web: FEMA.gov/drc
Mobile site: m.FEMA.gov
Text message: text DRC and your zip code to 43362 (4FEMA). For example, if you lived in Far Rockaway, you would text: DRC 11691 (standard data rates apply)
Your business may be eligible for disaster assistance from the Small Business Administration.
Safety is a primary issue when you're recovering from a disaster. Follow these tips to help ensure your safety and cope with the disaster.
&nbsp
---
November 18, 2012
Vice President Joe Biden Tours Hurricane Sandy Damage in New Jersey
Vice President Biden traveled to the New Jersey Shore and the City of Hoboken to personally survey the damage caused by Hurricane Sandy and meet with first responders on post-storm response and recovery efforts. The trip began with a helicopter flight along the shoreline of Monmouth and Ocean Counties to provide the Vice President an overhead view of the destruction Sandy brought to the North Barrier Islands. He was joined by Senator Bob Menendez, Congressman Jon Runyan, and New Jersey Lieutenant Governor Kim Guadagno.
Once he landed, the Vice President received briefings at the Seaside Heights City Hall and Volunteer Fire Department by Seaside Park Mayor Robert Matthies, Seaside Heights Mayor William Akers, Ocean County Freeholder John Bartlett, Jr, Seaside Heights Fire Chief James Samarelli and Police Chief Thomas Boyd. Vice President Biden had the opportunity to meet and thank local first responders, many of whom had also lost their own homes during the storm. Learn More
In Hoboken, the Vice President toured the underground Port Authority Trans-Hudson (PATH) station as well as the New Jersey Transportation Light Rail terminal to discuss water removal efforts and observe progress with repairs. The Vice President reaffirmed the Administration's commitment to working with Governor Christie, Senators Lautenberg and Menendez and the rest of the New Jersey delegation to do what is needed to get the terminal back up and running. He spoke of the use of hundreds of buses to ensure people had a means to get to work while repairs at the terminal continued.
---

350 Ambulances
at peak, using FEMA National Ambulance Contract to support evacuation operations.
40+ Mobile Communications
Office Vehicles
deployed, at peak, to support Hurricane Sandy response and recovery efforts.
6 Mobile Emergency Response Systems
deployed, at peak, to provide voice, video, information systems, operations and logistics support to communications efforts.
3 National Defense Reserve Fleet Vessels
deployed to support berthing and feeding of disaster response personnel.
3 Helicopter Carriers
deployed, at peak, to support and provide a landing platform for Coast Guard, National Guard and civilian agency helicopters.
Read the Response Numbers
---
November 16, 2012
HUD Secretary Shaun Donovan Visits Communities Impacted By Hurricane Sandy
The Obama Administration has continued to bring all available resources to bear to support the states affected by Hurricane Sandy as they continue to respond and recover from the storm.
In this new role, Secretary Donovan will coordinate Federal support as States design individual redevelopment plans, identify priorities, and over time work to implement them. This structure will streamline the process for Governors as they seek assistance for longer-term projects and identify community redevelopment priorities. The Department of Homeland Security (DHS) and the Federal Emergency Management Agency (FEMA) continue to provide all available federal resources to support the immediate response and recovery efforts. Learn More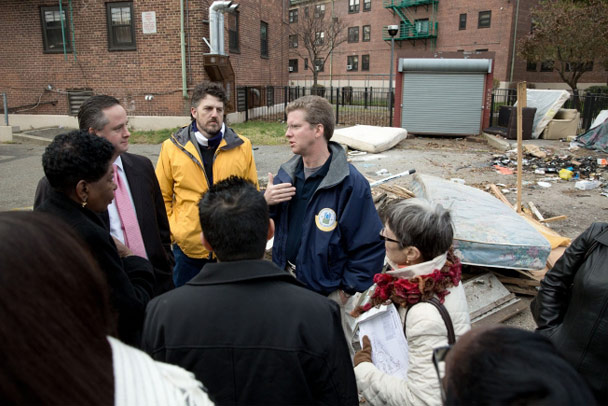 ---
November 15, 2012
President Obama Tours Storm Damage in New York
President Obama traveled to New York to assess the storm damage of Hurricane Sandy, and meet with local residents, first responders, and elected officials coping with the recovery process. He promised the communities affected by the storm full support from the federal government every step of the way as they begin to rebuild. Learn More
"We are here for you and we will not forget."
– President Barack Obama
Alongside New York Mayor Michael Bloomberg, New York Governor Andrew Cuomo, and Administration officials, the President surveyed some of the most devastated areas of New York from Marine One, including Breezy Point, a Queens neighborhood where more than 100 houses burned to the ground. Following his aerial tour, the President spoke with Staten Island residents, first responders, and volunteers about the recovery process that lies ahead.
---
15 FEMA Incident Management Assistance Teams
deployed, at peak, to provide a forward federal presence to facilitate the management of the national response.
1,200 Department of Health and Human Services Personnel
provided public health and medical assistance, at peak, to NY and NJ, including 15 Disaster Medical Assistance Teams that provided emergency health and medical support to medical facilities.
9 Federal Urban Search and Rescue Teams
deployed, at peak, to assist with combined searches of more than 47,000 structures in NY and NJ, and provided more than 858 health and wellness checks in hard-hit areas.
7,700+ Department of Homeland Security (DHS) disaster personnel
(FEMA & DHS Surge Support) including more than 2,100 housing inspectors deployed, at peak, to hard-hit states.
1,100+ Department of Agriculture, Interior and other State Agency Personnel
deployed, at peak, to support NY, NJ, WV, PA, and CT with logistics staging area support, road clearing, and incident personnel coordination.
Read the Response Numbers
---
October 31, 2012
President Obama in New Jersey: "We Are Here
for You"
Two days after Hurricane Sandy made landfall in southern New Jersey, President Obama was on hand to witness the devastation, comfort residents, and pledge the full support of the federal government in the recovery effort.
Across the state, the storm damaged homes, flooded communities, and left more than 2 million people without power. The President and New Jersey Governor Chris Christie surveyed the effects of the hurricane. Learn More
"There are still millions of people without power and many whose neighborhoods have been damaged or destroyed by water, heavy winds, and falling trees. The President promised to bring the full weight of federal resources to bear in helping those victims recover. There are places like Newark, New Jersey, for example, where you've got 80, 90 percent of the people without power,&rdquo. We can't have a situation where that lasts for days on end. And so my instructions to the federal agency has been, do not figure out why we can't do something; I want you to figure out how we do something. I want you to cut through red tape. I want you to cut through bureaucracy. There's no excuse for inaction at this point. I want every agency to lean forward and to make sure that we are getting the resources where they need -- where they're needed as quickly as possible."

– President Barack Obama
---
October 28, 2012
President Obama Discusses Hurricane Sandy
As Hurricane Sandy continued to bear down on the East Coast, federal teams worked with state and local officials to prepare for days of severe weather in communities stretching from North Carolina to Maine. Forecasts from the National Hurricane Center suggested that a huge area of the United States could be affected by high winds, heavy rains, storm surge, and snow – all of which could produce widespread power outages. President Obama traveled to the Federal Emergency Management Agency to get briefed on those preparations. He met with FEMA Administrator Craig Fugate, FEMA Deputy Administrator Richard Serino, and the FEMA regional directors. Dr. Rick Knabb, the director for the National Hurricane Center, joined the meeting by video conference. Learn More
"At this stage, everybody is confident that the staging process, the prepositioning of resources, commodities, equipment that are going to be needed to respond to this storm are in place. But as Craig [Fugate] has emphasized, this hasn't hit landfall yet, so we don't yet know where it's going to hit, where we're going to see the biggest impacts. And that's exactly why it's so important for us to respond big and respond fast as local information starts coming in."
– President Barack Obama
---
70+ Disaster Recovery Centers
opened in four states, at peak, with specialists from the state, FEMA and U.S. Small Business Administration (SBA) on hand to answer questions and provide information on the types of assistance available to survivors. Find One Near You
31 Small Business Administration Recovery Centers
opened in four states, at peak, to provide one-on-one help to business owners seeking disaster assistance. Find One Near You
---
The President has declared that major disasters exist in:
New York, New Jersey, Connecticut, Rhode Island, Delaware, Maryland, Virginia, West Virginia, New Hampshire, and Washington, DC.
Emergency Declarations have been signed for:
Connecticut, Delaware, District of Columbia, Maryland, Massachusetts, New Hampshire, New Jersey, New York, Pennsylvania, Rhode Island, Virginia and West Virginia.
---