Words and Deeds in American History: Selected Documents Celebrating the Manuscript Division's First 100 Years
---
Drafts of Langston Hughes's poem "Ballad of Booker T.," 30 May-1 June 1941.
(Langston Hughes Collection)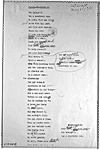 Langston Hughes (1902-1967), known for his lyric poetry, often wrote insightful commentaries about African-American culture and race relations in the United States. In this 1941 poem he makes a case for the vindication of educator Booker T. Washington (1856-1915), the former slave and founder of Tuskegee Institute (1881) and the National Negro Business League (1900) who was harshly criticized by many people for emphasizing vocational education as the prerequisite for the political empowerment of black people. In his poem, Hughes stresses the fact that Washington wanted to train the head, the heart, and the hand. He focuses on Washington's practicality and explains the educator's strategy with the statement,



"Sometimes he had
compromise in his talk--
for a man must crawl
before he can walk
and in Alabama in '85
a joker was lucky
to be alive.



Because the Library holds several dated drafts of the "Ballad of Booker T.," as well as the signed, finished version, researchers can learn how Hughes crafted his words so that the rhythm and the rhyme were syncopated, smooth, and flowing.

Debra Newman Ham, Manuscript Division
---
For Additional Information
For additional information on the Langston Hughes Collection, you can leave this site and read a summary catalog record for the collection.
Reproduction Number:
A57 (color slide; first and second drafts); A58 (color slide; final draft)
Related Terms:
African Americans | Alabama | Education | Hughes, Langston (1902-1967) | Literature | Poems | Poets | Tuskegee Institute | Washington, Booker T. (1856-1915)
---
African-American History and Culture | African-American History and Culture Items List | Arts and Literature | Arts and Literature Items List | Chronological List | Words and Deeds