In Wake of Sandy, Kerry Introduces Bill That Would Improve Nation's Resiliency to Extreme Weather
"We've all been shaken by the images of Hurricane Sandy even as we've watched with pride as the nation rallied to help our neighbors," said Sen. John Kerry. "But we owe it to people everywhere to strengthen our ability to respond to the next Sandy, in whatever form it may come."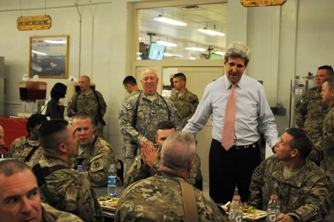 A Message for Our Veterans
We're all especially grateful to our veterans and men and women in uniform. You can watch Senator Kerry's video message here.
Legislative Update [ more ]
This month we made real progress on the education front in Massachusetts. We learned just a couple of weeks ago that Massachusetts was one of ten states nationwide granted a waiver from the Obama Administration that will allow us to continue to drive a rigorous, state-developed education plan with flexibility from the No Child Left Behind Act's overly rigid metrics. This means Massachusetts can continue to use its own innovative methods to improve student outcomes.
In Washington, President Obama also recently laid out his FY 2013 budget plan. In the coming months, we will debate the budget and make tough choices, but I believe it would be a mistake to shortchange investments in programs from LIHEAP to Head Start that make a difference each day for seniors, children, the disabled, and working poor families. No one should ever have to make the choice between food, medicine, and heating their homes, and I'll continue to fight for the funding to protect the vulnerable, create jobs, and strengthen Massachusetts' economy. If people in Washington could put ideology aside, we could cut waste in government without cutting out the heart of our country or the backbone of our economy and we could get America back on track.
How Can I Help You?
These are the top areas I've been helping the people of Massachusetts with this month, please select how I can help you from one of these or use the drop down menu for a full list of services that I can help you with.