Click here to read the New York Times' editorial praising Sen. Franken's bill to prevent mobile phone companies from tracking user's location without their consent.
In an effort to help farmers across Minnesota who are facing uncertainty because a new Farm Bill hasn't been passed by the House of Representatives, Sen. Franken is urging Senate leadership to include the bipartisan, Senate-passed Farm Bill in any deal brokered to address the nation's fiscal challenges.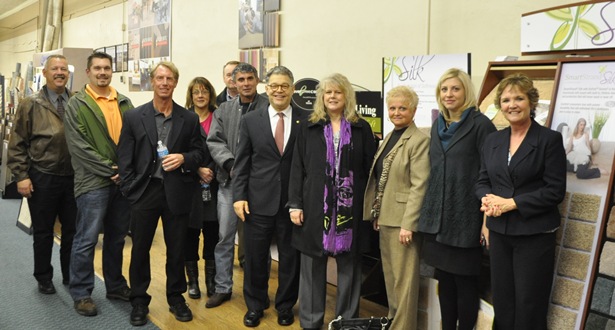 Click here to read about Carpet Plaza in Hibbing plans to retrofit their building to increase its energy efficiency as part of Sen. Franken's Back to Work Minnesota Retrofit Jobs Initiative.
Click here to read AgriNews coverage of Sen. Franken recent visit to Roger and Karen Strom's farm to hear from farmers and business leaders about federal agriculture policy.
Sen. Al Franken (D-Minn.) released the following statement after voting to support bipartisan legislation to avoid the fiscal cliff.
After voting against final passage of the National Defense Authorization Act for Fiscal Year 2013, U.S. Sen. Al Franken (D-Minn.) released the following statement.
In an effort to protect Minnesota's $8 billion forest products industry, U.S. Sen. Al Franken pressed the Obama Administration to prevent hundreds of millions of dollars in potentially illegal Canadian paper subsidies from damaging the American paper market.
Sen. Franken is proud to have been able to help the Iverson family return to Minnesota after Chau Iverson was robbed in Vietnam.

The Minnesota Swarm were getting ready to play against the Edmonton Rush in the National Lacrosse League, when they ran into a serious problem; three of their coaches are Canadian citizens and didn't yet have the correct visas to work in the United States, which meant that they wouldn't be able to participate in the next game.