The American Folklife Center at the Library of Congress
presents the Benjamin Botkin Folklife Lecture Series
AN ACQUISITIONS & PRESENTATION PROJECT
December 1, 2009 Event Flyer
If It Wasn't for the Irish and the Jews:
Irish and Jewish Influences on the Music of Vaudeville and Tin Pan Alley
Presented by Mick Moloney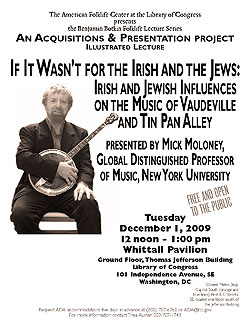 Mick Moloney's illustrated talk on Jewish and Irish collaborations in vaudeville and early Tin Pan Alley explores a fascinating, though largely forgotten, era in American popular culture. In vaudeville's heyday, between 1880 and 1920, Irish/Jewish collaborations on stage were commonplace. They were attended by all sorts of interesting identity ambiguities. For example, the famous Norah Bayes, who had a huge hit with the Ziegfeld Follies with "Has Anybody Here Seen Kelly," was actually Norah Goldberg; she changed her name partly to appeal to the huge Irish-American urban audience. One of her five husbands was Jack Norworth, who wrote "Shine on Harvest Moon" with Norah, and also the huge hit "Take Me Out to the Ball Game." He also wrote many Irish songs. William Jerome and Jean Schwartz were one of the most famous songwriting duos in early Tin Pan Alley. They wrote "My Irish Molly O" which ended up being a number one hit in Ireland in the 1980s, and they also wrote "If It Wasn't for the Irish and the Jews," which was recorded by the legendary Billy Murray in 1912 and became a nationwide hit. Jerome was actually William Flannery from County Tipperary, but changed his name when he saw the songwriting business switching from Irish to Jewish. Dubin, O'Brien and Cormack wrote "'Twas Only an Irishman's Dream," one of the big favorites of early 20th century American tenors. The term Tin Pan Alley was actually invented by a Jewish songwriter named Monroe Rosenfeld, who wrote several Irish songs including "I'll Paralyze the Man who Says McGinty," a parody of the 1890s hit song "Down Went McGinty," written by Irish American songwriter Joseph Flynn. The list goes on and on.
And, of course, there was George M. Cohan. He was Irish-American, but many people thought he was Jewish because of his name. His story culminated in an absolutely amazing American success story which saw the "Keohane" family move from destitute famine immigrants to center stage glory and riches on the Great White Way.
Mick Moloney's presentation, rich with biographical details and period and contemporary recordings, is a charming story of decades of good natured inter-ethnic flux, competition and cooperation which left a lasting imprint on the history of American popular music.
Mick Moloney is an internationally renowned performer and scholar in the field of Irish traditional music. He has recorded and produced over forty albums of traditional music, and acted as advisor for scores of festivals and concerts all over America. Mick also served as the artistic director for several major arts tours including The Green Fields of America, an NCTA-sponsored ensemble of Irish musicians, singers and dancers which toured across the United States. Mick is the author of Far From the Shamrock Shore: The story of Irish American History through Song, released by Crown Publications in February of 2002 with an accompanying CD on Shanachie Records. He has hosted three nationally syndicated series of folk music on American Public Television; was a consultant, performer and interviewee on the Irish Television special Bringing It All Back Home; a participant, consultant and music arranger of the PBS documentary film Out of Ireland; and a performer on the PBS special The Irish in America: Long Journey Home. In 1999, he was awarded a National Heritage Fellowship from the National Endowment for the Arts — the highest official honor a traditional artist can receive in the United States. Mick holds a Ph.D. in folklore and folklife from the University of Pennsylvania. He has taught ethnomusicology, folklore and Irish studies courses at the University of Pennsylvania, Georgetown, and Villanova Universities, and currently teaches at New York University in the Irish Studies program.
presented by Mick Moloney
Global Distinguished Professor of Music
New York University
The American Folklife Center was created by Congress in 1976 and placed at the Library of Congress to "preserve and present American Folklife" through programs of research, documentation, archival preservation, reference service, live performance, exhibition, public programs, and training. The Center includes the American Folklife Center Archive of folk culture, which was established in 1928 and is now one of the largest collections of ethnographic material from the United States and around the world. Please visit our web site.