The American Folklife Center at the Library of Congress presents
The Homegrown 2009 Concert Series

Traditional Ethnic and Regional Music and Dance that's "Homegrown" in Communities Across the US
AN ACQUISITIONS & PRESENTATION PROJECT
August 20, 2009 Event Flyer
Sreevidhya Chandramouli with Poovalur Sriji:
South Indian Classical Music from Oregon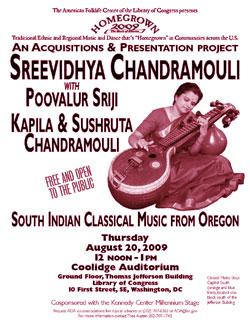 India, with a population of more than a billion people, has a great diversity of cultures, languages, religions, and music traditions. There are music genres associated with religious and devotional practices, daily village life, and urban-based popular film soundtracks. There are "classical" music traditions that developed in temples and courts through the patronage of elite social classes. Due to greater Islamic influence in the north, classical music in India gradually diverged into two separate traditions from the 13th century on: Hindustani music in the north, and Karnatak (Carnatic) music in the south. Although these traditions are both based on ideas of composition and improvisation in particular melodic frameworks (raga) and rhythmic/metric cycles (tala), there are significant differences in performance practice, theory, style, and repertoire. Carnatic music as it sounds today developed during the "Renaissance Period" centered in the Vijayanagara empire (1336- 1565). Purandara Dasa (1484-1564), a celebrated poet, mystic, and composer, created a systematic way of teaching Carnatic music that is still followed today. Ramamatya, a 16th-century music scholar at Vijayanagar, laid the foundations for the present theoretical framework of South Indian music. In the 18th and 19th centuries, the important kriti song form was refined by the great composers Tyagaraja, Mutuswami Dikshitar, and Shyama Sastri. Carnatic music is an aural tradition without reliance on written music notation. Compositions and improvisation play an equally important role. There is no separate repertoire for vocalists and instrumentalists. Improvisations such as the free-rhythm exposition of a raga (raga alapana), improvisation with a rhythmic pulse (tanam), and variations of a theme (kalpana svara and niraval) are so carefully intertwined with a composition that the resulting effect is one of complete musical unity.
The Saraswati vina
The South Indian vina, a plucked stringed instrument of the lute family, is one of the major instruments in the Carnatic music tradition. It is named after Saraswati, the Hindu goddess of learning and the arts, who is depicted seated on a swan or peacock playing this instrument. Its present shape is nearly 400 hundred years old. The performer sits cross-legged on the floor, a small gourd attached to the neck resting against the left thigh while the main resonator rests on the floor. The right hand plucks the strings while the left hand frets the instrument. The vina is played widely in temples, weddings, spiritual gatherings, and chamber concerts.
The mridangam
The double-headed barrel-shaped drum mridangam provides rhythmic accompaniment in the Carnatic music tradition. In Hindu sculpture and painting it is associated with the deities Ganesha (the remover of obstacles) and Nandi, Shiva's riding-bull and gate-keeper. Mridangam players use a variety of finger strokes on both heads to produce a multitude of pitches and tone qualities. Series of finger stroke combinations are vocalized with specific syllables as part of the learning process and sometimes in performance.
The tambura
The tambura is a plucked stringed instrument that provides a constant drone against which the melody moves. The notes used for the drone are the tonal center and a perfect fifth below it. Indian musicians are free to choose their tonal centers according to their particular vocal or instrumental ranges.
Sreevidhya Chandramouli (vina)
Sreevidhya Chandramouli is a tenth generation vina player in the Karaikudi tradition of Carnatic (South Indian classical) music. She is the daughter of Rajeswari Padmanabhan and great-granddaughter of the legendary "Karaikudi Brothers" (Sambasiva and Subbarama Iyer). She began learning this instrument from her mother, Rajeswari Padmanabhan, at the age of four, began performing with her mother from the age of nine, and gave her first solo performance when she was sixteen. In addition to her traditional training, she received a master's degree in music from the University of Madras. She is also an experienced vocalist and visual artist. Sreevidhya has been a regular performer on All India Radio and Indian Doordashan (TV), and has toured widely in Asia, Europe, and North America. She has been featured in major music festivals in India, Germany, and the Netherlands.
Sreevidhya has been living in Portland, Oregon since the late 1980s, where she teaches South Indian music in her home. She has served as visiting artist at the University of Washington, and has taught the Music of India course at the University of Oregon School of Music. She is pursuing the art of vina-making in Chennai, India, and conducts workshops in vina maintenance in Portland. She is also a founding member of Dhvani, a non-profit organization based in Portland, dedicated to the teaching, preservation, and dissemination of Indian arts.
Poovalur Sriji (mridangam)
Poovalur Sriji (Srinivasan) studied South Indian drumming with his father P. A. Venkataraman. Poovalur has performed and recorded with leading artists from both South and North Indian traditions, and western performers such as Yehudi Menuhin, Mark O'Connor, John Bergamo, and Glen Velez. The album Tabula Rasa, on which he composed and performed with Bela Fleck, V. M. Bhatt, and J. P. Chen, was nominated for a Grammy. Poovalur is currently a faculty member at the University of North Texas. He has also taught at the California Institute of the Arts and San Diego State University. He is a founding member of the group Brahmah, and directs the SNEW and the South Indian Cross Cultural Ensemble.
Kapila & Sushruta Chandramouli (tambura)
Kapila and Sushruta Chandramouli, born in the United States, are sons of Sreevidhya Chandramouli, and thus 11th generation descendents in the lineage of Karaikudi vina players. Both are advanced students of their mother, continuing the family tradition of vina playing. They are also learning the art of vina making from artisans in Chennai, India. Kapila is in middle school and Sushruta is in upper elementary school in Portland, Oregon.
Notes by Sreevidhya Chandramouli and
Mark Levy, ethnomusicologist, University of Oregon.
The American Folklife Center was created by Congress in 1976 and placed at the Library of Congress to "preserve and present American Folklife" through programs of research, documentation, archival preservation, reference service, live performance, exhibition, public programs, and training. The Center includes the American Folklife Center Archive of folk culture, which was established in 1928 and is now one of the largest collections of ethnographic material from the United States and around the world. Please visit our web site.