Thousands of apps. One simple way to get them.
With the Mac App Store built into OS X Mountain Lion, getting the apps you want has never been easier. No more boxes, no more discs, no more time-consuming installation. Click once to download and install any app on your Mac.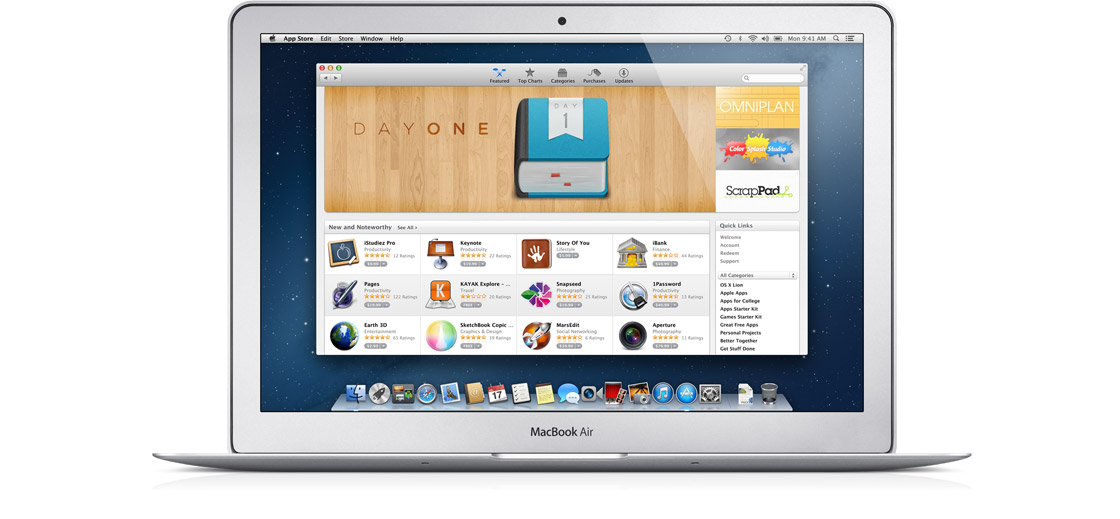 Great apps for your Mac. Right on your Mac.
The Mac App Store is just like the App Store for iPad, iPhone, and iPod touch. So it's as easy to find and download Mac apps as it is to add your favorite magazine to iPad or a new game to iPod touch. You can browse Mac apps by category, such as games, productivity, music, and more. Or do a quick search for something specific. Read developer descriptions and user reviews. Flip through screenshots. When you find an app you like, click to buy it. The Mac App Store has apps for just about everything and everyone. Here are a few of our favorites.
Install any app with ease.
The Mac App Store revolutionizes the way applications are installed on a computer — it happens in one step. Enter the same iTunes password you use to buy music and apps on your Mac, iPad, iPhone, or iPod touch. Within seconds, your new app flies to Launchpad, ready to go. So you can spend more time enjoying new apps and less time installing them.
Keep your apps up to date.
Since developers are constantly improving their apps, the Mac App Store keeps track of your apps and tells you when an update is available — including OS X Software updates. Update one app at a time or all of them at once, and you'll always have the latest version of every app you own.
The app you need.
When you need it.
Can't open a file you've downloaded or received in an email? OS X can search the Mac App Store to find the app that can open the file. Buy what you need instantly and get back to business.
Buy, download, and even redownload.
You can install apps on every Mac authorized for your personal use and even download them again. This is especially convenient when you buy a new Mac and want to load it with apps you already own.