Symbols of U.S. Government:
The White House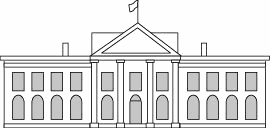 The White House is the home of the President of the United States. It is located at 1600 Pennsylvania Avenue in Washington, D.C. Every President except George Washington has lived there.
The President's office is called the Oval Office. Here the President does the business of the country. He signs bills and Executive Orders, and he meets with staff, visitors, and guests.
For more information on the White House, check out The White House for Kids.
---