Your Neighborhood and Beyond:
The Doctor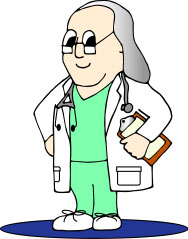 Sometimes, people get sick, hurt, or need special treatment they can't get at home. Your community has a hospital to help these people. Hospitals provide medical treatment for physical and mental health problems, such as medicines that keep you from getting sick (vaccines), surgery, and rehabilitation. Hospitals also provide health education programs and training for nurses and physicians. Many hospitals have an area of expertise, meaning that they have staff members specially trained to treat a specific illness or perform special surgery. Hospitals also conduct research and develop new medical procedures to help prevent and cure diseases.
Going to the hospital can be scary, but the people who work at hospitals are there to help. Doctors, nurses, and other staff members are specially trained to deal with all kinds of illnesses and injuries.
One of the duties of the Federal Government is to maintain and improve the health of the nation. There are many Federal agencies that work toward this goal, such as the Department of Health and Human Services, Food and Drug Administration, Centers for Disease Control and Prevention, and National Institute of Health. You can learn more about the Federal Government's involvement in health care from the Health and Human Service's Pages for Kids.
---