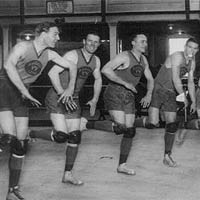 Basketball players learn the Charleston in the hope it will help their game
Dance is one of the oldest art forms--its existence is evident in every culture around the globe. Dance and movement are a powerful expression of feeling.

People from all over the world have come to America, bringing their native dances with them. Over the years, dance has evolved as forms move in and out of style. Dancing, whether it is social dancing, dancing for performance, dancing for exercise, or dancing just for fun, is an activity almost everyone can enjoy.