THE LIBRARY'S CATALOGS
Suppose you are assembling an audiovisual presentation on Eleanor Roosevelt's relationship with the media or are delving into the effect of women's radio shows on consumers? One of the aims of this Web site is to show the variety of materials available in the Library for exploring the history of American women in both print and non-print media and how to find these sources. Because of the diversity of formats held by the Library, there exists
Display of document, book, map, and newspaper. 1953. Prints and Photographs Division. LC-USZ62-95379
bibliographic record
no one catalog that lists all items
no online record for many individual items in the Library
no one set of authorized subject headings
no single system of call numbers
Different formats require different search strategies. The next few sections on subject headings and call numbers apply mostly to print sources—especially books and periodicals. Many researchers, however, will need to use published works to help locate items such as photographs or newspaper articles. Most reading rooms have additional catalogs, bibliographies, discographies, and finding aids that you must consult to determine the full range of materials available within the Library. Explanations of these specialized catalogs, methods of subject access, and numbering systems may be found in the Using the Collections pages of the American Women Research Guide, which cover the following Library units:

[Top]

The Library of Congress Online Catalog is available from any computer with Internet access. In one integrated system, it contains approximately twelve million records representing many, but not all, of the Library's books, serials, computer files, manuscript collections, cartographic materials, music, sound recordings, and visual materials. The catalog also displays cross-references and scope notes that assist in navigating and locating relevant records. (Separate catalogs for pictorial materials such as prints and photographs and for sound recordings supplement the main online catalog.)

The online catalog can be searched in many ways, including by:
The Bonus division where the many clerks figure the amount of the bonus each veteran is entitled to. Between 1909 and 1932. Prints and Photographs Division. LC-USZ62-101229
bibliographic record
title
personal and corporate author/creator
subject headings
call number
LCCN, ISSN, ISBN (identification numbers used to identify printed books and periodicals)
keywords
Complex searches are possible using commands, Boolean operators, truncation, and special cataloging codes. You can limit by language, year and place of publication, types of material (e.g., limiting your search to manuscript material, computer files, or nonmusic sound recordings), and location of the material within the Library. For a detailed description of how to search the online catalog, see the Help pages. Most users find the basic search relatively straightforward, but "Help" screens and "Search examples" are available at every step. Once you arrive at the Library, the Computer Catalog Center (Jefferson Building, room LJ 139) has reference staff available to assist you.
Online records can provide important location and circulation information, but this information is not always complete. Since the Library may own several copies of a title, a copy of a desired work may still be available even if the online record contains a status message of "charged" or "missing in inventory." Serial records (for magazines, journals, annual publications) increasingly include information on which issues the Library has received. These records are not yet complete, so a researcher should request the dates or volumes needed, even if the record does not specifically indicate their availability.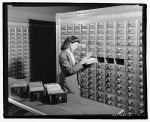 Jewal [sic] Mazique cataloging in the Library of Congress. 1942 Winter. Prints and Photographs Division.
LC-USW3-000381-C
bibliographic record
The online system contains records for many older items, but about 3.2 million records, primarily for books and serials cataloged between 1898 and 1975, contain the legend "[from old catalog]," which indicates that the subject headings assigned to the item may deviate from current Library of Congress terms. For example, a researcher scanning the online catalog under the current subject heading "Women" will miss the thousands of records still listed in the same catalog under the old term "Woman." The online catalog has other pitfalls that are still being addressed; in addition to superseded subject headings, there are inputting errors and limitations on the amount of data transferred into the online records. On-site users can avoid these problems by consulting the 22,000-drawer Main Card Catalog (MCAT) housed just off the Main Reading Room (Jefferson Building, room LJ 100) (see Catalogs in the General Collections section for a discussion of this card catalog).
[Top]
Some of the records in the Prints and Photographs Online Catalog (PPOC) are also found in the Library of Congress Online Catalog, but PPOC includes additional records, direct display of digital images, and links to rights, ordering, and background information about the collections represented in the catalog. For a detailed description of this catalog see Using the Collections in the Prints and Photographs section of the Research Guide and also About the Catalog and Help directly on the PPOC site.
Many sound recordings are included in the Library of Congress Online Catalog, but a separate Sound Online Inventory Catalog (SONIC) is also available with more than 375,000 bibliographic records providing access to many archival collections. For a description of this database; specialized searches for radio broadcasts, and spoken-word and other types of recordings; and search tips; see the SONIC Main Menu as well as the discussion of the Sound ONline Inventory and Catalog in the Recorded Sound section of the Research Guide.
The key to searching for materials by subject or format in many of the Library's online and card catalogs is to identify the correct subject headings (for what the material is about) and genre headings (for what form the material takes). Catalog records for special formats such as prints, photographs, moving images, and rare books often draw headings from specialized subject heading lists or thesauri (see, for example, a discussion of subject headings used for pictorial material in the Prints and Photographs section, Access to Images: Evolving Conventions). The Library of Congress Online Catalog help pages include an outline of the subject and genre headings lists in use in that catalog.
The primary subject heading list, especially for books, periodicals, and manuscripts, however, is the Library of Congress Subject Headings (LCSH), a list maintained by the Library of Congress and used by many libraries and indexing institutions worldwide to catalog their materials. The current headings can be found in the multivolume Library of Congress Subject Headings (Washington: Library of Congress, annual; Z695.Z8 L524a), known familiarly as the "Red Books." Copies of the Red Books are available in most local and university libraries as well as in most Library of Congress reading rooms.
Using LCSH, Library catalogers create highly structured, very specific headings that enable researchers to pinpoint the exact works desired. The headings have become increasingly effective for women's topics over the past thirty years. For older materials, a combination of valid subject headings and other research methods is necessary.
If you search the Library's online catalog for the keywords "battered women," you find more than one hundred entries and may be perfectly satisfied. But by not identifying subject headings used by the Library--"Abused women," "Abused wives," and "Wife abuse"--you may miss the best materials for your topic. A search combining these three terms yields more than one thousand records.
The "Sample LCSH" given in many sections of the American Women Research Guide and the examples listed below are just a small fraction of authoritative headings for women and women's issues. The twenty-fifth edition of LCSH (2002) contains twenty-five pages listing hundreds of terms under "Women," and there are many other headings, such as "Girls," "Goddesses," "Lesbians," "Mistresses," "Nuns," "Queens," and "Sisters," that apply. Individual personal and corporate names are not included in the volumes of subject headings, but they too can be searched as subjects.
The construction of Library of Congress subject headings is precise and complicated, with many rules on order and punctuation that need not be explained here. The next few paragraphs provide only the most basic guidelines on how subject headings for women's history are formed. Careful examination of the Red Books and consultation with reference staff remain crucial.
1. The heading "Women" can be followed by subdivisions, which can be geographical, topical, chronological, or by form. For the full list of the more than three thousand authorized subdivisions, see Free-floating Subdivisions: An Alphabetical Index (Washington: Library of Congress, annual; Z663.72.F74; in most LC reading rooms).
Examples of subdivisions are: United States, Nebraska, Folklore, History, 19th century, Bibliography, Biography, Periodicals, or Maps.
These can be strung together in a fixed order: Women—United States—Bibliography or Women—Massachusetts—History—Indexes.
Several subdivisions that are particularly useful for locating primary sources are: Sources, Diaries, Narratives, Correspondence, Interviews, Quotations, or Collections.
2. The heading "Women" can be followed by an occupation, as in Women poets; Women social reformers; or Women surgeons.
3. The phrase "Women in" can be followed by terms such as Women in literature; Women in missionary work; Women in television broadcasting; or Women in the professions.
4. In keeping with the Library's cataloging policy of applying the most specific terms appropriate to an item, many words can be added to the word "Women" to narrow a search; for instance: African American women; Hispanic American women; Korean American women; Aged women; Divorced women; Homeless women; Poor women; Rural women; Single women; Baptist women; Jewish women; or Women immigrants.
Each of these terms may have subdivisions:
Homeless women—United States—Biography; Single women—Conduct of life; or Women immigrants—Employment—Texas.
5. To give one longer example: the subject heading "Women artists" is related to many narrower terms and cross references, among them: Women artists in literature; Lesbian artists; Indian women artists; Minority women artists; Women painters; and Women engravers.
Each of these narrower terms may in turn have subdivisions: Women artists—United States—Exhibitions—Periodicals; or African American women artists–Biography–History and criticism.
The permutations are many and are governed by firm rules.
New subject headings are created when catalogers feel that there is a sufficient mass of material to need increased specificity, and not before there is a physical item in hand to catalog. Some women's terms are of surprisingly recent creation; for example, "Lesbianism" and "Motherhood" (and "Fatherhood") are rarely found before the middle of the twentieth century. When searching for older materials, especially before 1975, be aware that current subject terms may not have been used. When a new term is created, it is not always added to the records of all previously cataloged titles. To use the online catalog effectively, you must also search those terms marked "Former heading" in the Library of Congress Subject Headings as well as by call numbers and keywords. Some noncurrent Library subject headings are given in this site's "Sample LCSH" because they appear in the online catalog. When you visit the Library, you can use the Main Card Catalog (see Catalogs in General Collections section of the Research Guide) and avoid some of the difficulties with superseded subject headings.
In addition to searching the LCSH, other ways to select subject headings assigned to materials of interest include:
examining the subject headings assigned to a known book or to a range of books within the same call number category (the Library of Congress Online Catalog provides links on subject headings, so that you can use a subject heading assigned to one item of interest to retrieve other records that have that same heading)
discussing terms with reference librarians
taking a Research Orientation class given by staff from the Main Reading Room
Online help screens assist in identifying some of the valid subject headings but do not lead to all useful ones. From the upper right-hand corner of the Online Catalog page, you can link to a name and subject authority file that will give you online access to the subjects and names that the Library has authorized for use. No online help, however, is as effective for determining the best subject headings as simply browsing the Red Books. It cannot be reiterated strongly enough: Explore the Library of Congress Subject Headings.

[Top]

There are many numbering systems by which the Library arranges materials in its stacks. Most books and bound periodicals are placed on the shelves in Library of Congress call-number order. Many other libraries, including most university libraries, use this same classification system for categorizing books by type or subject.

Catalogers assign unique identifiers—call numbers—based on the content of the work. To request a book or periodical to be brought to you from the Library's closed stacks, you need to search the Library's catalogs to find the call number assigned to the item. These unique numbers are composed of one, two, or three letters followed by a combination of numbers and letters. For example, call numbers for many books on medicine begin with R; the range for gynecology and obstetrics is RG1-991, and for nursing, it is RT1-120.

Call numbers for bibliographies at the Library begin with Z; many bibliographies on women have numbers between Z7961 and Z7965, and those specifically on the employment of women are Z7963.E7. But some bibliographies on African American women, for example, are in Z1361.N39. This last instance shows that you must be very cautious when searching for a subject by call numbers, for they are as specific as subject headings. Bibliographies solely on women usually have a different call number from those on both men and women. Bibliographies on women belonging to specific racial, religious, regional, or ethnic groups may have numbers different from the general one for "women." Nonetheless, when used carefully, this grouping by subject makes browsing the online catalog by call number another worthwhile way to search for items on a specific topic.

With the first part of a call number (such as HQ1410 or Z7961 or E185.86), you can scan the online records for books and bound periodicals in the order in which the volumes sit on the shelves, thereby coming close to "browsing the stacks" in the Library of Congress. Call number searching is especially helpful for older works that received only very broad subject headings, such as "Girls" or "Conduct of life," and for works that have no subject terms at all in the online catalog. Once you find a work of interest in the Library of Congress Online Catalog, you can take advantage of the call number link to find other works in that call number range.

The multivolume Library of Congress Classification (Washington: Library of Congress, Cataloging Distribution Service, [irregular]; Z696.U5) shows the full range of Library call numbers. Call numbers or catalog records for many titles mentioned on this site have been included to aid in call-number searching.

Subject searching by call number works well for books and periodicals. Some of the special format collections in the Library, such as manuscripts, prints and photographs, and maps, use other call number or shelving systems that may bear little relation to the content of the collection and thus may or may not have value for subject searching. These other systems are discussed in the sections on each reading room.

[Top]

Just as women have been omitted from much of history as written by male historians, so women of color have often been excluded from the works of white historians of both sexes. The majority of the sources, subject headings, and search strategies outlined on this site most easily yield materials describing educated, Christian, white, heterosexual, middle-class women and girls. Uncovering the history of all women—including women of color, lesbians, or poor, rural, immigrant, or non-Christian women—often requires extra searching. For example, scanning the large class of American and English children's magazines using the call number beginning AP201 will miss African American children's magazines, such as Brownies' Book or Ebony Jr!, which are in AP230, and magazines in English for Jewish children, such as Young Judean in AP222. As a result of the civil rights and women's movements of the twentieth century, reference sources and subject terms are becoming more inclusive now; however, many earlier bibliographies and other reference aids are limited in scope.

If you wish your research to cover the widest possible variety of women, it is necessary to look for materials on women in bibliographies, secondary sources, discographies, and other finding aids that focus on specific groups. For example, bibliographies on an individual group such as African Americans, Native Americans, or Muslims often lead to materials on women in these groups that will not be found in general bibliographies on "women." Russell C. Brignano's Black Americans in Autobiography: An Annotated Bibliography of Autobiographies and Autobiographical Books Written since the Civil War (revised and expanded edition, Durham, N.C.: Duke University Press, 1984; Z1361.N39 B67 1984) [catalog record] lists first-person accounts of African Americans Annie L. Burton and Emma Ray that are not included in some of the bibliographies of "women's" autobiographies. The Library of Congress has both accounts, but no subject heading identifies them as African Americans or as women.

The Comprehensive Bibliography for the Study of American Minorities, by Wayne Charles Miller, 2 vols. (New York: New York University Press, 1976; Z1361.E4 M529) [catalog record] leads to many books and articles on women in minority groups that might be difficult to find using more general bibliographies. Many similar volumes exist. (To locate them see Bibliographies in the General Collections section of the American Women Research Guide.)

This point cannot be made too strongly: Researchers must remember that the infinite variety of women's experiences and the remarkable array of multiformat materials in the Library necessitate various search strategies; no one method or source works for research on all women. This Web site suggests some of the ways to explore women's lives, but it cannot cover all methodologies. Area Studies Collections illustrates through two models—American Jewish women and Latina women—the kinds of materials in the Library's many reading rooms that can be found for specific groups. You can adapt these models to your own research needs.

[Top]