Welcome to the U.S. Government Printing Office Bookstore!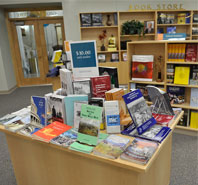 GPO became responsible for selling Government publications in 1895. Since 1921, GPO has served the public in the same location, providing new and popular publications from all three branches of the Federal Government. This does not include all publications, only those produced or procured by GPO.
In 2010, the GPO bookstore was renovated and saw its most drastic overhaul ever, all accomplished by GPO's own designers and craftsmen. Based on plans developed by our Creative Services' team, carpenters, electricians, machinists, painters and plumbers, the bookstore was completely transformed into a model of contemporary bookstore design.
The bookstore now features a computer kiosk where customers can check our online catalog and order any book in our inventory, a large plasma screen monitor featuring news about GPO and the books we sell, and a kid's corner where children can sit and read about various subjects.
Find the Latest Government Publications
Visitors to the nation's capital, parents, teachers, history buffs, and professionals of all kinds can find the latest Government publications for:
National Parks & Local Tourism
Military History
Presidential Papers, Hearings &
Commission Reports
Taxes & Citizenship
Small Business & Careers
Educational & Children's Books
Health Care & Home Improvement
Environmental & Consumer Protection

Legislation & Regulations
Federal Budget
Law Enforcement & Counterterrorism
Military History & Strategy
Doing Business with the Federal Government
Import / Export
International Affairs
Health Policy & Medical Research
Environment Issues