iPad inspires creativity and hands-on learning with features you won't find in any other educational tool — on a device that students really want to use. Powerful apps from the App Store like iTunes U and iBooks let students engage with content in interactive ways, find information in an instant, and access an entire library wherever they go. And now with iPad mini, even more students can get their hands on iPad.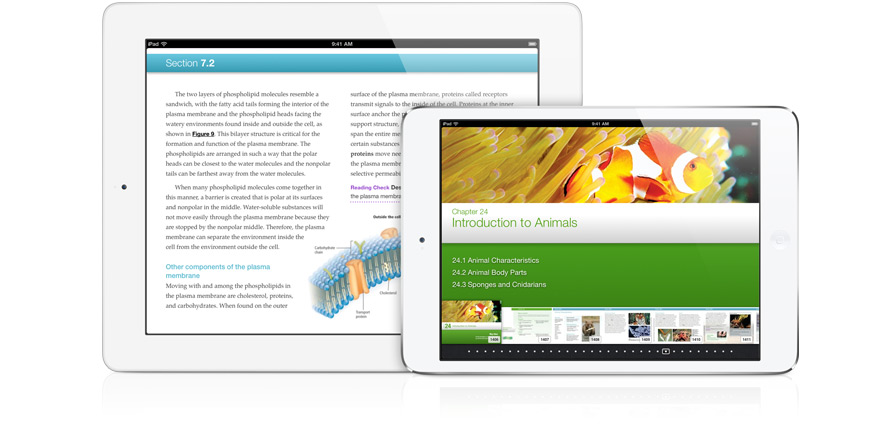 A new kind of textbook. For a new kind of student.
Students will now experience the most amazing textbooks they've ever read. They can flip through a book by sliding their finger along thumbnail images of the pages. If they don't know the definition of a word, one tap takes them to a glossary or dictionary. No longer limited to a single picture to illustrate the text, now students can flick through a gorgeous photo gallery or dive into an image with interactive captions. They can use a finger to rotate a 3D object to show a human brain from every angle, or have the answer spring to life in an interactive chapter review.
A book they can call their own.
Budget constraints force schools to use the same books year after year, long after the content is out of date. But with textbooks on iPad, students can get a brand-new version each year — for a fraction of the price of a paper book. They can discover and download iBooks textbooks from the Textbook section of the iBookstore directly to iPad.
Create your own iBooks Textbook for iPad.
iBooks Author is a new Mac app that textbook publishers are using to design incredible media-rich books for iPad. And you can, too. Just download iBooks Author from the Mac App Store.
Back to top
Apps for iPad.
In a class all by themselves.
iPad apps are expanding the learning experience both inside and outside the classroom. From interactive lessons to study aids to productivity tools, there's an app for every learner. Learn more about apps for education
Back to top
iTunes U for iPad.
Now it's easier than ever to unleash the full potential of iPad in your classroom by creating your own custom courses for iPad. You get to share your ideas in a powerful new way, and your students get a rich, immersive learning experience using the iTunes U app for iPad. iTunes U is available no matter where you teach — at a college, university, or K-12 school. Learn more about iTunes U
Create and distribute your own courses.
Your iTunes U courses can include all the items you would use in a traditional course: a syllabus, handouts, quizzes, and so on. And they can include your own video and audio lectures, as well as interactive elements such as content and links from the Internet, iBookstore, App Store, and iTunes Store. You can create iTunes U courses via an easy-to-use, browser-based tool from Apple, then use the same tool to distribute your courses directly to your students.
Teach with iTunes U.
Your students will experience your course using the free iTunes U app for iPad. It's a simple yet powerful app that puts all the materials for the course right at their fingertips. They can listen to lectures, read iBooks textbooks, watch videos, and stay on top of assignments. And when you post an update or send a message to your class, students receive a push notification with the new information.
Back to top
Teach your entire class with iPad.
With video mirroring, you can share your content with a classroom of students.
See it here. See it there.
Easily show web pages, lessons, photos, videos, and more on the big screen. Connect your iPad to an HDTV or display with a video output cable (sold separately) or use AirPlay to stream wirelessly to any HDTV via Apple TV.5
Back to top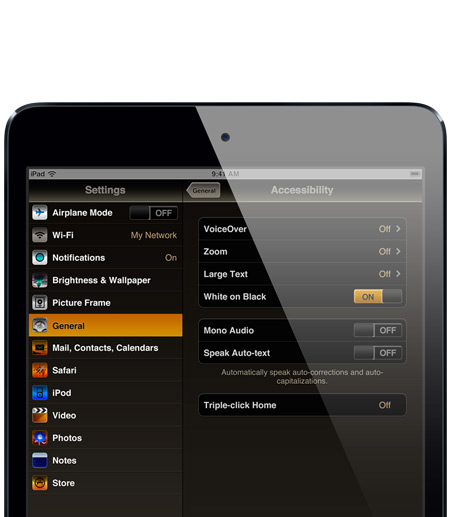 iPad for all.
iPad comes with a screen reader, support for playback of closed-captioned content, and other innovative universal access features — right out of the box. There's no additional software to buy or install. These features make iPad easier to use for students who have a vision impairment, are deaf or hard of hearing, or have a physical or learning disability. Learn more about accessibility on iPad