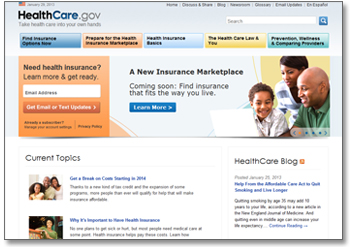 Secretary: Let's Get America Covered
With key provisions of the Affordable Care Act soon to take hold, HHS Secretary Kathleen Sebelius urges all health professionals to become familiar with a re-vamped web site containing the latest information on the Act – particularly the Health Insurance Marketplace.

"I'm so proud of the incredible work our department has done over the last two years to implement the Affordable Care Act," the Secretary said. "Today, I want to ask even more of you: Be a part of getting America covered."

The updated site -- HealthCare.gov -- includes new information about the Marketplace, where families and small businesses will be able to easily compare and purchase high-quality health insurance plans starting October 1, 2013, with coverage beginning January 1, 2014.

"Help get the word out about the Marketplace and HealthCare.gov to your family members, your neighbors and your networks," the Secretary said. "Tell them it's not too soon to check out the site for tips and things they can do now to prepare for enrollment in October."

The site includes step-by-step, Plain English instructions, timelines and e-mail alerts for individuals, families and businesses and allows people to "comparison shop" between health insurance plans available in their area through a simple Q&A web interface.

"Thanks to you," the Secretary said, "hard-working families across the country will be able to get the security of affordable health insurance coverage and the care they deserve."

 
---
The Fifth Vital Sign
Five years ago, fewer than 200 patients at the Family First Health Center in the Susquehanna Valley west of Philadelphia were being screened for HIV/AIDS.
Read more »
---
New Grant Opportunities
HRSA-13-166  Telehealth Network Grant Program
Apply at Grants.gov by February 13

HRSA-13-151  Culturally Appropriate Interventions of Outreach, Access and Retention among Latino/a Populations – Evaluation and Technical Assistance Center
Apply at Grants.gov by March 18
 
HRSA-13-154  Culturally Appropriate Interventions of Outreach, Access and Retention among Latino/a Populations – Demonstration Sites
Apply at Grants.gov by March 18
 

IN THIS ISSUE
UPCOMING WEBCASTS

Basic Evaluation Question Design, Wednesday, January 30, 3 to 4 pm ET Good data start with good questions. Find out how to ask them.
 
Maternal & Child Health Interdisciplinary Professional Training and Systems Integration, Friday, February 1, 11 am ET
 
Using an EHR and Quality Data to Improve Hypertension, Friday, February 22, 2 pm ET
 
Maternal & Child Health Applied Missing Data Analysis, Monday, February 25, 2 to 3:30 pm ET Will provide researchers with a conceptual overview of two modern missing data handling methods: multiple imputation and maximum likelihood estimation.
PRESS RELEASES

01/18/2013 - $5.6 million to fight chronic health diseases in Delta region