Researchers use BNL's Cosmotron for research; win 1957 Nobel Prize in Physics!



Search DOE laboratory technology transfer websites and databases on Science Accelerator!



Learn about the OSTI products & services that help you find the science information you need.



DOE and its predecessor agencies have been researching heat pump technology since the early 1950's.


Advancing Science – Information Bridge Records in Your Library Catalog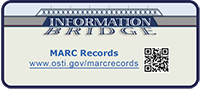 Some links on this page may take you to non-federal websites. Their policies may differ from this site.