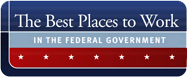 A Great Place to Work
The OCC is consistently among the Best Places to Work in the federal government. Among similar agencies it ranks in the top 10 percent overall and ranks near the very top for diversity, family friendly culture, and pay and benefits.
A job with the OCC is an opportunity to make a real difference in one of the nation's most important economic sectors. As an agency employee, you play a key role in …
ensuring the safety and soundness of America's national banking system.
providing fair access and equal treatment to financial services.
establishing and maintaining a flexible regulatory framework that allows America's banks to be competitive.
Career Opportunities
As a bank examiner, you can help supervise banks across the country—whether you're just getting started in your career or have years of experience. A variety of other positions also are available at the OCC.
Other Opportunities
Benefits and Salaries
The OCC provides one of the best benefits programs in government, as well as a competitive salary structure with geographic pay rates for various locations.
Equal Opportunity Workplace
The OCC takes pride in its dedication to diversity. We are committed to ensuring equal employment opportunity and base all employment and promotion decisions on merit, without regard to race, color, religion, national origin, sex, age, disability, protected genetic information, sexual orientation, parental status, or other non-merit factors.
Absent undue hardship, the OCC provides reasonable accommodation for qualified individuals with disabilities. To request reasonable accommodation as an applicant or employee with a disability, contact Jay Young, National Accommodations Coordinator or call (202) 874-4370.
Consistent with U.S. law, candidates with U.S. citizenship are preferred over equally qualified candidates who are not. All OCC employees and contractors undergo security background checks upon hiring and periodic security reviews.