You can show support for our Nation's Veterans and their families and encourage them to get the care they deserve by downloading Veterans Crisis Line materials and helping us spread the word about this free and confidential resource available to all Veterans and their families.
Web ads in a variety of standard sizes are available for use on public and VA websites. You can also download Veterans Crisis Line logos, posters and other materials to print and display in your community.
Print Materials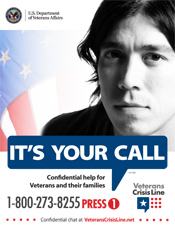 You can download Veterans Crisis Line materials and print them from your own computer. Multiple versions of full-color and black and white posters are available for download in both 8.5'' x 11'' and 11'' x 17'' formats. You can also download and insert your own contact information or event details in a Veterans Crisis Line flyer. Public fact sheets are also available for print.
Web Ads
Download a variety of online banner ads and badges to use on your website and link to the Veterans Crisis Line. Banner ads and badges are available in standard sizes approved for VA.gov sites as well as public sites.
Logos
Want to include the Veterans Crisis Line logo on your own materials? The Veterans Crisis Line logo is available for download in a variety of formats. You can also access and download the Veterans Crisis Line Branding Guidelines for guidance on how to consistently apply the various components of the Veterans Crisis Line brand.
Suicide Prevention Month Toolkit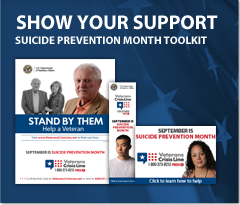 September is Suicide Prevention Month and everyone can make a difference. Help spread the word about support available for Veterans in crisis. It's easy to download and print posters and an editable flyer. Use content for articles and social media posting, and place a web banner on your website.