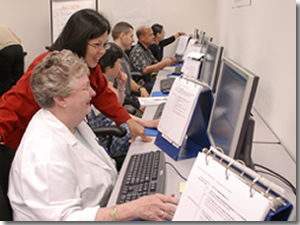 You must complete this training before you will receive a log-in code for CRIS. All training sessions will be instructor led and include online tutorials, hands-on practice, discussions, and a post-training assessment.
See What classes do I need to take? for details on specific courses offered.
Go to the CIT training web site to sign up for CRIS Training http://training.cit.nih.gov/. Under Classes by Category select CRIS (Clinical Research Information Systems).
If you register for a class and are unable to attend, you can delete your registration to free up space for others.
For questions or to arrange accommodation for special needs call 301-496-8400 and ask to speak to a member of the training team. If a class is 'full' that you would like to attend, contact the training team at 301-496-8400.
General CRIS Training Objectives
Upon completion of these courses, the user will be able to:
Explain the role of system in supporting clinical research and patient care.
Demonstrate how to navigate various system features and functionalities.
Identify how the system will improve clinical workflow and management of patient care
Successfully utilize the system according to role description and security access.
Instructors/Speakers
All instructors are experienced users of the CRIS and work for the NIH Clinical Center Department of Clinical Research Informatics:
Claudia Briguglio

Rubi Defensor

Lucia DeMenezes

Susy Postal

Alice "Frankie" Smyth
Accommodations for Disabilities
There are elevators in the Clinical Center Building 10 and the classroom and restrooms on the same floor are wheelchair accessible. Because elevators cannot be used in case of fire, mobility handicapped students who may need assistance negotiating the stairs should inform the Instructor before the first day of class.
If any special services will be needed, individuals should contact the CRIS Training Coordinator at least 2 weeks in advance to make the necessary arrangements.
Note: PDF documents require the Adobe Acrobat Reader.