For Teachers - Tox Town-Based Curriculum Units / Science Club
Tox Town-Based Curriculum Units / Science Club
Discovering the Connection: Your Environment, Your Health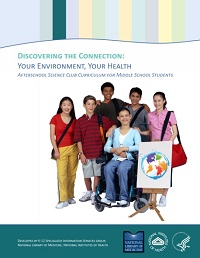 Discovering the Connection: Your Environment, Your Health is an afterschool science club curriculum for middle school students. It can also be used in a science classroom or in an interdisciplinary program that connects science and society.
Lessons and activities of the curriculum combine research on the Tox Town Web site with hands-on experiments and communication and social action activities. The objective is to introduce middle school students to environmental health issues in their everyday lives, emphasizing the relevance of science to informed citizenship.
The curriculum was developed as a collaboration among the National Library of Medicine (NLM), University of Maryland College of Education, and an inter-disciplinary group of middle school teachers. It is based on National Science Education Standards and is grounded in problem-based learning.
The curriculum sequence contains six units that each introduce one environmental health topic and include three to four 50-60 minute lessons. See Introduction for a more detailed description of the curriculum.
Introduction and Curriculum Units
| | |
| --- | --- |
| | Introduction |
| | Unit 1. Water Quality: Introduces students to drinking water quality issues and the water treatment process. Includes experiments where students test school drinking water, compare it with water from other sources, and communicate the findings to the school community. |
| | Unit 2. Air Quality: Introduces students to air quality issues and the impact of air pollution on human health. Students test air quality in several locations in and around the school. |
| | Unit 3. Chemicals in Your Home: Informs students about potentially toxic chemicals in common products and introduces safer alternatives. |
| | Unit 4. Food Safety: Introduces students to biological, chemical, and physical contaminants in food. Uses an experiment to teach safe food handling. |
| | Unit 5. Runoff, Impervious Surfaces, and Smart Development: Introduces students to the relationship among runoff, water pollution, and human health. Also introduces the idea of responsible development. |
| | Unit 6. The Great Debate: Bottled Water vs. Tap Water in Our School: Students perform research about pros and cons of different sources of drinking water, engage in a debate, and develop persuasive arguments to advocate for bottled or tap water as a primary source of drinking water in the school. |
For additional educational resources visit the NLM K-12 page.
[Top]
[Previous Page - Introduction]
[Next Page - Classroom Activities]
Last updated: October 31, 2012