Home and Business
Explore the resources in this section to learn more about cybersecurity and to better secure your home and small business networks.
Featured Articles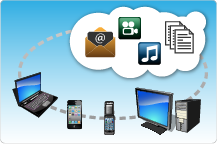 This informational paper describes what cloud computing is, discusses how it can help small businesses and home users, and outlines possible security concerns.
Because our computers have such critical roles in our lives and we trust them with so much personal information, it's important to improve their security so we can continue to rely on them and keep our information safe.

Learn about viruses, what they can do to your systems, and how to avoid them and lessen their impact.

Your home network is susceptible to intrusion and attack. Learn more about the security risks and how to guard against them.
National Cyber Awareness System
Alerts
Warnings about vulnerabilities, incidents, and security issues that pose major risks.

Bulletins
Weekly summaries of new vulnerabilities along with patch information when available.

Tips
Advice and best practices about common security issues for the general public.
Looking for something specific?
Business Managers
IT Professionals