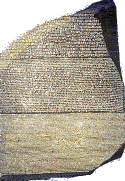 Rosetta Stone

---
Please Note: Users are responsible for compliance with the UMLS Metathesaurus License Agreement.

To access either the Interactive Mode or Batch Mode facilities, you must have accepted the terms of the UMLS Metathesaurus License Agreement, which requires you to respect the copyrights of the constituent vocabularies and to file a brief annual report on your use of the UMLS. You also must have activated a UMLS Terminology Services (UTS) account. For information on how we use UTS authentication please select the Info icon to the right:


For details of the licenses see the UMLS Metathesaurus License Agreement and How to License and Access the Unified Medical Language System® (UMLS®) Data.
---
The Semantic Knowledge Representation (SKR) Project was initiated at NLM in order to develop programs to provide usable semantic representation of biomedical free text by building on resources currently available at the library.

Access to biomedical information depends on reliable representation of the knowledge contained in text. For significant advances to be achieved a richer representation will be required than is currently available. As an example of the type of enhanced representation we are proposing, (2) contains the semantic propositions which represent some of the information contained in the text in (1).


(1)
We used hemofiltration to treat a patient with digoxin overdose that was complicated by refractory hyperkalemia.
(2)
Hemofiltration-TREATS-Patients
Digoxin overdose-PROCESS_OF-Patients
hyperkalemia-COMPLICATES-Digoxin overdose
Hemofiltration-TREATS(INFER)-Digoxin overdose

Generated by invoking SemRep with default settings in Interactive Mode (Updated: June 1, 2010)

Each of the propositions in (2) is a predication whose predicate (in uppercase) is a relation from the UMLS Semantic Network. Each of the arguments is a concept from the UMLS Metathesaurus. The set of propositions in (2) considered as the semantic representation of (1) is not complete; however, it represents the major relationships and concepts contained in the text.

In-House Technologies Used:

MetaMap

SemRep

Medical Text Indexer (MTI)