Image and Video Gallery
This is a searchable collection of scientific photos, illustrations and videos. Permission is granted to use these products for educational, news media or research purposes, provided the source for each is credited. The material in this collection may not be used to promote or endorse commercial products or services.
Enter text in the box below to search the collection.
From the Collection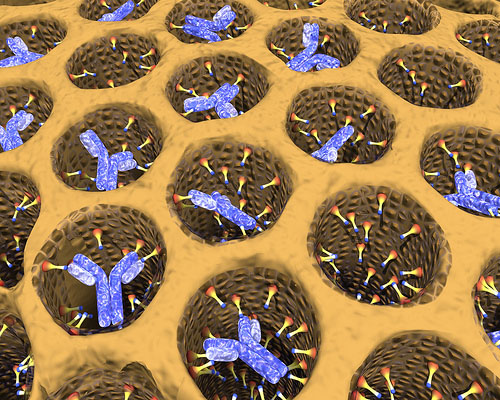 Antibodies are among the most promising therapies for certain forms of cancer, but patients must take them intravenously, exposing healthy tissues to the drug and increasing the risk of side effects. A team of biochemists packed the anticancer antibodies into porous silica particles to deliver a heavy dose directly to tumors in mice.

Featured in the June 16, 2010, issue of Biomedical Beat.

Related Links
My Images
No images to display.
Note: Some of the files in this gallery may require a content viewer.
This page last reviewed on April 26, 2011