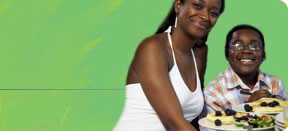 Good Talking, Good Listening Skills
Parent–child communication is one of the most important protective factors against risky behavior in children. Effective communication with children is essential for maintaining a happy and smoothly run family life. The Web articles below include active talking and listening activities for both parents and children and will help families hone their communication skills.
For more communication activities, visit our Conversation Starters page.
Be the Bridge—Raising a Child in More Than One Language
Parents of students who are learning English can play a central role in their child's education by actively participating in their child's schooling, especially during the preschool years.
Divorce in the Family
Divorce, regardless of the situation, is difficult for all individuals involved. However, it particularly affects children because of the many life changes that occur within a short time period. This article helps parents understand how divorce affects children and provides advice to help children cope with the effects of divorce to reduce the anxiety, stress, and confusion children may experience.
Express Yourself!
Children's ability to express themselves creatively is often associated with positive social, emotional, and behavioral health, so it's important to help children cope with their feelings by channeling self-expression into healthy avenues. This article addresses helping 3- to 6-year-old children express their individuality and gain self-confidence.
The Military Child
Military children face many unique challenges compared to their nonmilitary peers, such as adjusting to the absence of the deployed parent, moving and changing schools frequently, and coping with parental injury and even death as a result of combat. This article addresses helping 3- to 6-year-old children with the anxiety and stress they face as the result of having a deployed parent.
Obesity and Unhealthy Eating
For children ages 2–5, an increase in weight and childhood obesity has more than doubled in the past 20 years, which has serious short-term and long-term consequences for our children. This article shows how healthy eating habits that are established early on can protect our children physically and emotionally, all the way into adulthood.
Time to Listen
Storytelling is not a time for adults to simply read books to children. It's a time to bring oral stories to life through expressive communication. It's a time to make up stories together and time to listen to each other's stories. Performing and listening develop communication skills, increase vocabulary, and encourage creativity.
Following Directions
Following directions is an important life skill for children to learn. To make learning to follow directions easier, it is important for parents to follow some sound tips for giving directions.
Caring and Sharing
Learning to care for or share with others can be difficult for young children because they are so focused on themselves. But, thinking about others—their feelings and their needs—is a critical social skill.
Creative Play
Young children learn and experience new things through their imagination. As parents, we need to remember that the basics of how children learn is not only 1+1=2 or "b" is the beginning sound in "baby." It is also in their telling you about pictures in clouds, building new worlds with blocks and clay, and making up stories about an imaginary friend.
Humor and Kids
According to KidsHealth, children laugh about 200 times each day; adults laugh only 15 to 18 times. Laughter can help you and your children communicate better and build emotional bonds. "Laughing Is Good for You and Your Child" from the Substance Abuse and Mental Health Services Administration (SAMHSA), states that having a sense of humor is good for a child's mental and physical well-being.
Change and Stress
Change, whether planned or unexpected, is hard for young children to understand and accept. When change happens because of a natural disaster or other crisis, loss adds even greater stress. Children may have a hard time talking about their feelings, but you often can see telltale signs of distress.
Kids' Safety Tips
You don't have to scare young children when you talk about child safety. Before you start your talk, make sure they know you don't expect anything bad will happen to them. You want them to know how to be safe. Even the youngest children need to know what to do if they get lost in the park or at the mall. They need to feel safe talking about worries they have about other children or adults.
When the News Is Frightening
Although it may seem a bit silly to worry about "current events" with preschoolers, our national obsession with 24-hour news coverage and constant visual reminders of disastrous events in the news pretty much guarantee that even young children are exposed to the news.
Tips on Talking
No matter how old they are, talking with your children is one of the most important things you can do to help them grow up confident and secure.