Landmark Study
Impact of Mammography and Adjuvant Therapy on the Decline in U.S. Breast Cancer Mortality: 1975–2000.   
After remaining relatively constant for many years, breast cancer mortality in the United States decreased by a dramatic 24% from 1989 to 2000. CISNET investigators initiated a joint comparative modeling effort among seven groups to determine the contributions of mammography and adjuvant therapy to this decline. While the benefits of adjuvant therapy were more settled, controversy regarding the benefits of mammography screening persisted due to uneven results and continuing criticism of the controlled trials on which the mortality benefits had been based. The dissemination and usage patterns of mammography and adjuvant therapy were coupled with seven independent modelers' syntheses of all available information on the benefits of these advances to estimate their population impact.
Dissemination of Screening and Adjuvant Therapy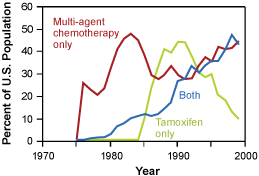 All models agree on three points:
Both screening and treatment reduced breast cancer mortality,
The observed reduction in the overall population could not be attributed to either one acting alone, and
Each contributed about equally to this decline.
Typically, results based on observational data are validated using controlled trials. However, this was a case where observational data (combined in a novel way using seven different models) helped to confirm mammography benefits, when controlled trial results alone could not settle the debate.
Mortality Trends and Results of Joint Modeling Effort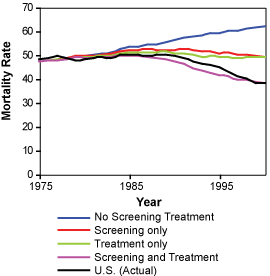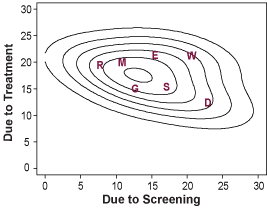 This analysis was first published in the The New England Journal of Medicine:
Cancer Intervention and Surveillance Modeling Network (CISNET) Breast Cancer Collaborators. The Impact of Mammography and Adjuvant Therapy on U.S. Breast Cancer Mortality (1975-2000): Collective Results from the Cancer Intervention and Surveillance Modeling Network. J Natl Cancer Inst Monographs 2006;36:1-126. [Monograph]