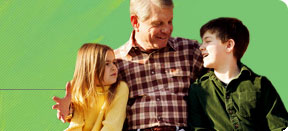 Show and Tell
Parent involvement in their child's activities and interests can have a positive impact on child behavior and health. The articles below offer suggestions and parenting advice on keeping track of the life events that could affect a child's mental health and well-being.
Water Safety
Children love to play in the water in the bathtub, in pools of all kinds, and in natural bodies of water such as rivers, lakes, and the ocean. As much fun as it is, water has obvious and unexpected dangers.
Family TV Time
Child experts agree that too much television can be bad for children. But, don't throw out the good with the bad by banning TV. Follow the simple tips below when you "take charge of TV," according to the U.S. Department of Education's Helping the Preschool Child.
Good Hygiene: Why It's Important to Brush Your Teeth
Getting young children to brush their teeth may not be too hard. Getting them to do it in the right way is a different matter entirely. Good dental hygiene is important to good health for the whole body, not just the teeth and gums.
Showing Respect
Respect is a two-way street: When you show respect to others, they show respect to you.
Coping With Sadness
Stressful or sad situations can cause worry or anxiety in children. It's important to be aware of your children's feelings after a loss, separation, or a major event that changes your lives.
Emergency Preparedness for the Family
Emergencies can make anyone feel insecure. One of the best ways to help children feel safe in an emergency situation is to show them that the family is prepared. Setting up a Family Emergency Supplies Kit is a preparedness priority.
Monitoring Playground Safety
Each year in the United States, more than 200,000 children go to hospital emergency rooms with injuries that happened on playground equipment, according to the Consumer Product Safety Commission (CPSC). To help prevent injuries, you must monitor your child to make sure he/she follows playground rules; but, you must also monitor the equipment to improve playground safety.
Monitoring Your Child's Sleep
Sleep studies show that sleep deprivation problems can start with children as young as toddlers. Lack of sleep can make it difficult for young children to concentrate in school and can cause them to have problems working and playing with their peers.
Monitoring Your Child's World
Keeping track of the who, what, where, when, and how of your child's world is an easier task when children are young. However, it's important to start early to ask your child and yourself the right questions so that "monitoring" doesn't become a battle as your child grows.
Tips on Monitoring
It's easy to keep track of 3-, 4-, 5-, or 6-year-olds. Their friends don't drive, and they can't get far on a tricycle. But there's more to monitoring children's activities than just knowing where they are.