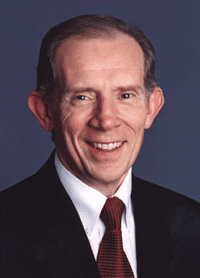 Dr. Glen R. Hanson
NIDA Acting Director


Dr. Glen R. Hanson was named acting director of NIDA on December 1, 2001. Dr. Hanson became director of NIDA's Division of Neuroscience and Behavioral Research in September, 2000. As a NIDA-supported investigator for more than 20 years, Dr. Hanson has focused his research on the movement of brain chemicals such as serotonin and dopamine across cell membranes, the toxic effect of methamphetamine and MDMA (ecstasy) on the nervous system, and the role of neuropeptides in amphetamine and cocaine effects.

Dr. Hanson also serves as Advisory Director of the University of Utah's Addiction Research and Education Center, which he founded in 1999. Dr. Hanson is a professor in the University of Utah's Department of Pharmacology and Toxicology. He holds a D.D.S. from the University of California, Los Angeles, and a Ph.D. from the University of Utah. From 1978 to 1980, Dr. Hanson was a Fellow in the National Institutes of Health Pharmacology Research Associates Training Program.



---
Director's Reports to the National Advisory Council on Drug Abuse
---
Director's Columns from NIDA NOTES