NEI Summer Intern Program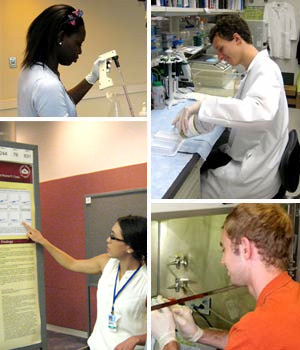 The NIH Summer Internship Program (SIP) provides opportunities for students to spend the summer working with some of the world's leading scientists in an environment devoted to biomedical research. Students from across the country come to the NIH to obtain scientific research experience and mentoring from scientists and physicians across the 27 Institutes and Centers who study a broad range of questions in biology and medicine.
The National Eye Institute (NEI), established in 1968, conducts and supports research, training, health information dissemination, and other programs with respect to blinding eye diseases, visual disorders, mechanisms of visual function, preservation of sight, and the special health problems of individuals who are visually impaired or blind. Summer interns come to the NEI to participate in research projects that include but are not limited to age-related macular degeneration and other eye diseases, ophthalmic genetics, retinal cell biology, visual neurobiology, and the immunology of the eye. Students will have the opportunity to work and network with some of the leading investigators in vision research and ophthalmology in the world and expand their knowledge and research experience in basic and clinical research. Interested students can learn about individual NEI labs here.
Interns typically work 8–12 weeks at the NIH campus in Bethesda, MD or at the Twinbrook facility at Fishers Lane in Rockville, MD. Interns, with the permission of their mentors, can present at the NIH Summer Intern Poster Day on August 8th, 2012. They also have the opportunity to attend seminars and workshops hosted by both the NEI and the NIH Office of Intramural Training and Education (OITE).
To be eligible for the NEI program, a student must be at least sixteen years of age by the internship start date and either a U.S. citizen or permanent resident. Additionally, applicants must either be currently enrolled at least half-time in high school, or have been accepted or currently enrolled in an accredited U.S. college, university, or medical/dental school. Internships start in mid-May through the end of June and must be for a minimum of 8 weeks. Students with relatives who work at the NEI are not eligible for an internship in the NEI program; however, we encourage these students to pursue internships at another NIH institute.
To apply, students are required to submit an application through the NIH Office of Intramural Training and Education (OITE) Summer Internship Program. Applications open up in mid-November 2012 and close on March 1st, 2013. Students are encouraged to contact the NEI Summer Intern Program Coordinator with questions and to determine what labs could be a good fit with their interests. The principal investigator (also known as the section head or chief) selects the interns that will work in their labs; potential interns should contact an investigator to get more insight on his or her research and see if there are positions available. All requests are subject to approval by the Summer Intern Program Coordinator.
For more information on the NIH program and to apply, please visit the OITE Summer Internship Program website. Additionally, NEI has the Diversity In Vision Research and Ophthalmology (DIVRO) summer internship program for students from traditionally underrepresented groups in biology and medicine; more information can be found here at the DIVRO site.
For additional information on the NEI, please contact:
Dr. Cesar Perez-Gonzalez
Summer Intern Program Coordinator
cesarp@nei.nih.gov
Phone: 301-451-6763

Annual Program Highlights
Last Updated: November 2012