Panel Exhibition on View at National Library of Medicine and Alexandria Waterfront Museum Examines George Washington and Medicine
"Every necessary care and attention": George Washington and Medicine
Bethesda, Maryland—The National Library of Medicine and the Alexandria Waterfront Museum will host a special traveling banner exhibition exploring the Colonial-era healing practices used by George Washington on the battlefield, during his presidency, and home at his beloved Virginia estate. Co-produced by the National Library of Medicine (a division of the National Institutes of Health), and George Washington's Mount Vernon, "Every necessary care and attention": George Washington and Medicine, features a compelling collection of images and rich online companion resources drawn from the world's largest medical library and the nation's oldest historic preservation organization. Before embarking on a national tour, the exhibition will be on display at the History of Medicine Division Reading Room, National Library of Medicine, on the NIH campus in Bethesda, Maryland, January 30, 2013 to March 1, 2013 and at the Alexandria Waterfront Museum in Alexandria, Virginia, from January 17, 2013 to April 27, 2013.
As head of household, plantation owner, businessman, Revolutionary War general, and president, George Washington had many different concerns and responsibilities, from running his estate to ensuring the stability of a new nation. Alongside the traditional demands of political life and military leadership, he focused considerable attention on the health and safety of his family, staff, slaves, and troops, including inoculation against smallpox.
Washington's status and wealth gave him—and his community—special privileges. During his lifetime, with the practice of medicine slowly becoming a licensed profession, he could call on a growing class of experts and new knowledge about the spread and prevention of disease. Even so, Washington, like everyone else of his era, encountered the limits of medicine when faced with serious illnesses such as smallpox, malaria, and tuberculosis.
The banner display incorporates the use of QR codes allowing visitors to access transcripts and audio recordings of some key documents. The online companion exhibition (www.nlm.nih.gov/georgewashington) features educational resources for K-12 teachers and students and a higher education module for professors and undergraduates. In addition, the online exhibition showcases a "Digital Gallery," a collection of digitized books, pamphlets, and illustrations about Colonial-era medicine, healing practices, and medical practitioners from the History of Medicine Division collections.
"Every necessary care and attention": George Washington and Medicine marks the first formal collaboration between the National Library of Medicine and Mount Vernon. The exhibition was curated by Mary V. Thompson, Dawn Bonner, and Michele R. Lee from Mount Vernon. The banner exhibition was designed by Howard + Revis Design Services. The website was designed by Link Studio.
After its display in the Washington, D.C. metro area at the National Library of Medicine and the Alexandria Waterfront Museum, the exhibition is expected to travel to other venues throughout the country. For more information about booking the exhibition, please contact. nlmtravelingexhibits@mail.nlm.nih.gov or visit the traveling exhibition web site at: http://www.nlm.nih.gov/hmd/about/exhibition/georgewashington-bookinfo.html.
George Washington by Gilbert Stuart, ca. 1798
Courtesy Mount Vernon Ladies' Association
During Washington's life (1732-1799), medicine in America followed the practices of England These practices were defined by speculative hypotheses, domestic remedies, and the beginnings of scientific investigation and formal education.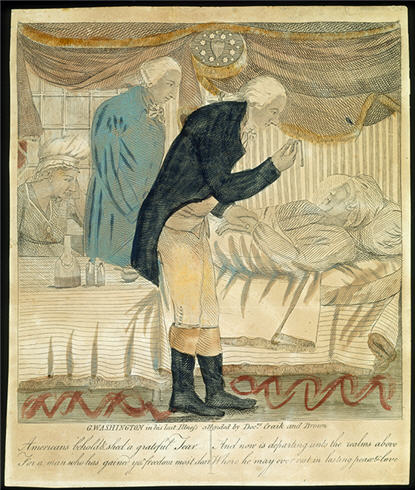 Washington in His Last Illness attended by Docrs. Craik and Brown, etching by an unidentified artist, early 19th century
Courtesy Mount Vernon Ladies' Association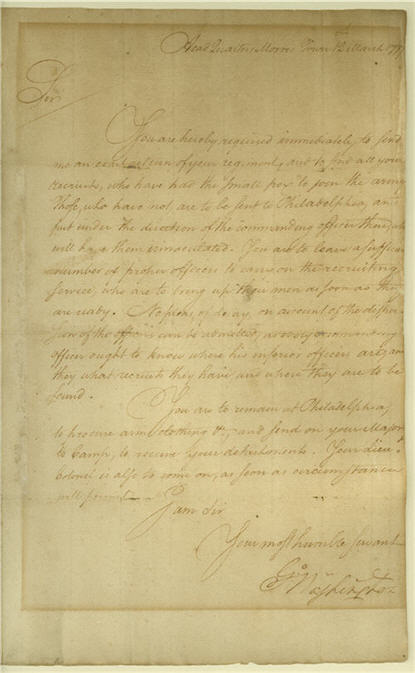 An order from George Washington to transport new recruits to Philadelphia for smallpox inoculation, March 12, 1777
Courtesy Mount Vernon Ladies' Association
In addition to the routine ailments faced at camp, the American army faced a more severe problem—a potentially deadly outbreak of smallpox that threatened the outcome of the war. Washington began to inoculate and quarantine troops to control and minimize the impact of the disease. His decision was bold and dangerous, as inoculation brought risk of death, although far less frequently than if contracting smallpox naturally. Larger Image (1,200 x 1,950 pixels)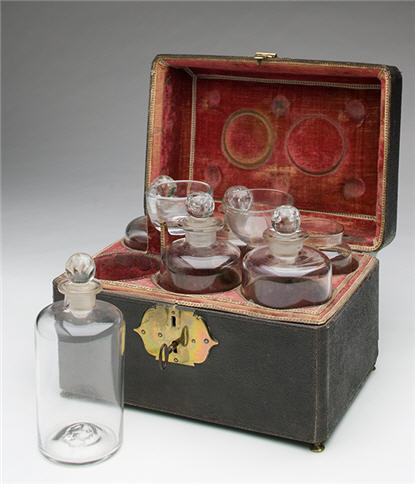 Medicine chest, typically containing glass bottles of medicine for common disorders, a set of scales, and a mortar and pestle, 1700s
Courtesy Mount Vernon Ladies' Association
George Washington and his family members bought a wide variety of patent medicines as well as ingredients for homemade medications, including ipecacuana, diascordium, tincture of myrrh, and spirits of lavender. Having these supplies on hand would have been useful for treating family members and slaves before a doctor was called.
Dentures owned by George Washington, ca. 1790–1799
Courtesy Mount Vernon Ladies' Association
The Washingtons utilized the services of dentists, and purchased toothbrushes and tooth powders. Still, George Washington lost his first tooth at the age of 24 and his last when he was 64. Both he and his wife wore false teeth in their later years.