[ Intro ] [ Floral Price List ] [ Floral Order Form ] [ Photo and Lithograph Request Form ] [ Korean War Honor Roll Form ] [ Electronic Korean War Honor Roll Request ]
Intro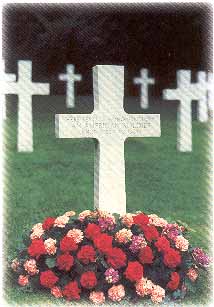 Each year millions of people visit ABMC cemeteries and memorials. ABMC receives thousands of inquiries yearly, many seeking to facilitate visits or locate individual grave sites. ABMC provides the following services to requestors:


Name, location, and information on cemeteries and memorials.
Plot, row and grave number or memorialization location of honored
war dead.
Best in-country routes and modes of travel to cemeteries or memorials.
Information on accommodations near cemeteries or memorials.
Escort service for relatives to grave and memorial sites within the cemeteries.
Letters authorizing fee-free passports for members of the immediate family traveling overseas to visit a grave or memorialization site.
Black and white photographs of headstones and Tablets of the Missing, on which the names of dead or missing are engraved.
Arrangements for floral decorations placed at graves and memorialization sites.
An Honor Roll certificate, suitable for framing, containing data on a Korean War casualty.
Digital color photographs of donated floral decorations in place.
The Andrews Project
ABMC also provides relatives, of those interred in its cemeteries or memorialized on its Tablets of the Missing, with color lithographs of the cemetery or memorial that includes a mounted photograph of the headstone or commemorative inscription. The Andrews Project, named in honor of its sponsor the late Congressman George W. Andrews, is ABMC's most popular service.

We can assist you in planning your visit to any of our sites. We can arrange for the placement of floral decorations at an individual's grave or marker, and we can give you information on any individual buried or honored at our cemeteries or memorials.
For More Information
You may email: info@abmc.gov


You may write to:

American Battle Monuments Commission
Courthouse Plaza II, Suite 500
2300 Clarendon Boulevard
Arlington, VA 22201


You may call: (703) 696-6900