Geovisualization Tools Development
Geovisualization Tools Development
As part of a broader program of data visualization research, NCI staff and their collaborators have developed a number of methods to better communicate cancer statistics visually, such as by maps and new graph designs. Examples of work in this area are:
---
Weighted Nonparametric Smoothing (Headbanging)
"Head-banging" is a weighted two-dimensional median-based smoothing algorithm, developed to reveal underlying geographic patterns in data where the values to be smoothed do not have equal variances. The Head-Bang software helps users apply this algorithm to data.
Proportion of residents with no health insurance: CDC Behavioral Risk Factor Surveillance System
Original Data

Smoothed Data
Data: Pickle & Su, American Journal of Preventive Medicine, 2002
Headbanging: Mungiole et al., Statistics in Medicine, 1999
---
Tools implemented as ArcGIS Extensions
---
Conditioned choropleth maps
Decomposes a single choropleth map into strata according to 1 or 2 other factors
Interactive tool - users control classifications of mapped variable (red/gray/blue) & stratifiers by sliders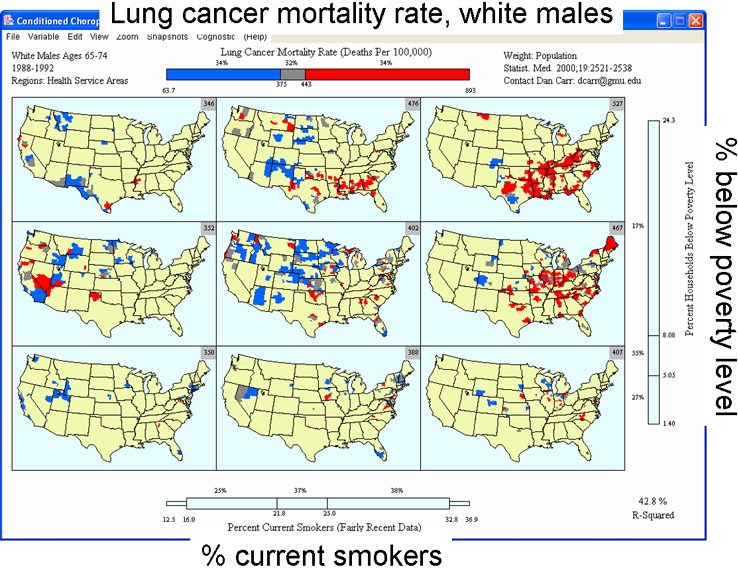 Carr, Wallin, and Carr, Statistics in Medicine 2000 [D]
---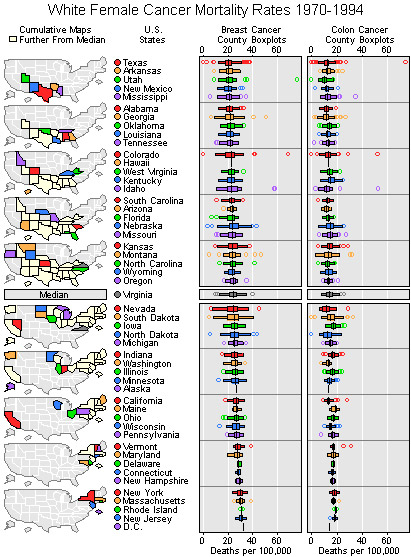 Carr, Wallin, and Carr, Statistics in Medicine 2000
Linked Micromap Plot
Color links statistical graphs & maps
Micromaps show spatial patterns
Supports different glyphs & sorting
---
Combining Statistical Clustering Algorithms with New Visualization Tools
Exploratory Spatio-Temporal Analysis Tool (ESTAT):
Time trend plots of cancer rates
Parallel coordinate plot of risk factors, confounders
Scatter plots, maps
Statistical summaries
Supports linking, brushing, variable & option selection
Alan MacEachren, Penn State University (www.geovista.psu.edu)