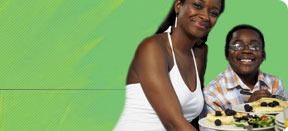 Divorce in the Family
Divorce, regardless of the situation, is difficult for all individuals involved. However, it particularly affects children because of the many life changes that occur within a short time period. A major change, such as divorce, produces anxiety in children, which increases stress levels. As a threat to their security system, divorce leaves children feeling emotionally, mentally, and even physically vulnerable (Children Living in Stressful Environments) (PDF | 78KB).
The Facts
Today, approximately 40 percent of U.S. children have divorced parents. Of this percentage, 20 to 25 percent display signs of not dealing well with the change in their family structure and are at risk for negative outcomes that can extend into adolescence, such as substance abuse, dropping out of school, risky sexual behavior, and depression (Children Living in Stressful Environments) (PDF | 78KB). Factors in the living environment, such as the parents' attitudes toward the situation and the degree of conflict, influence the occurrence of serious, long-term problems (The Effects of Divorce on Children).
Children can have complicated reactions to divorce. In addition to feelings of loss and grief, young children will typically display anger either outward toward a parent(s) or inward, showing withdrawal. Nonetheless, the reaction of children toward a divorce depends primarily on their age and their parents' ability to properly handle the situation.
3- and 4-year-olds
This age group will not understand the meaning of divorce. They do know that a major change is happening in their world, which makes them feel upset and sad. Preschoolers will often:
Undergo changes in behavior (such as reverting to bedwetting), eating, and sleeping habits and patterns;
Play differently whether with peers and/or with toys/stuffed animals/pets;
Believe that their misbehavior caused the breakup;
Be afraid of abandonment by a parent; and
Fantasize about the return of the absent parent.
5- and 6-year-olds
This age group will have some understanding of the meaning of divorce. Most likely, they will know peers (in school or their extended family) who have experienced a divorce. This age group will often:
Feel deceived or betrayed by parents;
Show signs of distress through changes in behavior, sleeping, and/or eating patterns and habits; and
Be afraid of abandonment or feel unloved and unwanted.
Helping Children Cope with Divorce (The Mayo Clinic, KidsHealth)
Parents who are undergoing divorce experience their own sense of loss, grief, and insecurity. However, it is important for them to continue functioning as parents in order to provide children with reassurance and security. Here are some tips to help parents minimize the anxiety and other negative impacts that divorce can have on children:
Talk to your children.
Let them know early on that you intend to divorce or separate. Encourage them to ask questions and respond as honestly as you can without going into unnecessary detail. If children are unable to express themselves with words, explore other avenues such as artwork or games.
Maintain normal routines.
Children's sense of security is tied to knowing what to expect. Continue to provide reassurance and security by keeping to the established daily routine or quickly set up a new one.
Don't involve children in the conflict.
Parental relationships must be respected. Refrain from making negative comments and/or remarks about a parent to, or within earshot of, your children. Also, do not argue or discuss divorce-related issues, such as child support, in front of your children. Finally, do not place your children in a position to take sides.
Stay involved in your children's life.
Children often feel abandoned or unloved by the parent who moves out. These feelings can greatly affect your children's sense of self-worth and security. Both parents should make an effort to take an active role in their children's lives.
Seek outside help, if needed.
If the children appear to be distressed and you are overwhelmed and/or need help coping, you may need to seek professional help from a school counselor, social worker or psychologist to assist you and your family. Share news of any significant changes in your children's lives with adults who interact with them on a daily basis, such as teachers and coaches. These individuals can assist you in monitoring their progress over time.
The attitudes and mannerisms of parents undergoing or following a divorce affect the self-confidence and self-esteem of children. Furthermore, it will affect children's ability to deal with stress and change in their lives.
Family Activity: In My Family

Educator Activity: Family Portraits
Quiz for Parents: Divorce in the Family
Resources
"Facts for Families: Children & Divorce" (PDF | 156KB), from American Academy of Child and Adolescent Psychiatry, describes the signs of distress in children of divorcing parents and provides tips on how to talk to children.
"Prevention Works! Children Living in Stressful Environments" (PDF | 78KB), from SAMHSA research findings, summarizes the effects divorce can have on children.
"The Effects of Divorce on Children," from Parenting 24/7, discusses research findings on children of divorce: Who it affects and why.
"Divorce Matters: A Child's View," from the National Network for Child Care, explains how children of different ages see and react to their parents' divorce and offers tips on how to reduce the impact.
"Children and Divorce: Helping Kids After a Breakup," from the Mayo Clinic, suggests ways parents can help their children adjust to a divorce.
"Coping With Separation and Divorce," from Mental Health America, offers tips for talking to children about divorce.
From KidsHealth